The coronavirus pandemic has catapulted healthcare into the spotlight. As individuals and governments battle the virus and its impact on the economy, the importance of healthcare has become clear. This is true now, perhaps more than before as the potential of a prolonged global economic recession weighs.
Meanwhile, volatility has kicked back into broader markets, leaving many wondering: how will market sectors perform in the final stretch of the year?
Since the healthcare sector tends to hold firm during recessions, businesses in the industry may continue to exhibit strength long-term. Below we'll take a deeper look at the sector and two healthcare exchange-traded funds (ETFs) that could offer stability during the months ahead:
Healthcare Trends
The average health expenditure by the Organization for Economic Cooperation and Development countries currently stands at 8.7% of the gross national product, where the US tops the table with over 16%. According to government figures, in 2018, health care spending was $11,172 per person.
Several factors influence the sector. Demographics are changing in countries as nations are aging. A recent report by PWC summarizes:
"By 2030 the world's population is projected to rise by more than 1 billion, bringing the total to over eight billion. 97% of this population growth will come from emerging or developing countries. Equally significantly, people in all regions are living longer and having fewer children. The result is that the fastest growing segment of the population will be the over 65s."
In addition to patient demographics, technological advances also affect costs, employment trends, market entrants and consumer expectations. The new decade is likely to witness a fast-evolving sector.
In July 2020, consultanting firm Frost & Sullivan predicted the pandemic will continue to affect various segments of the industry in different ways. For example, life sciences as well as telehealth will continue to be robust. On the other hand, imaging and medical technologies are negatively effected as patients and health care professionals are delaying many elective procedures.
The coming quarters are likely to show that strong companies will sustain revenue and earnings growth and thus provide value to shareholders. However, it is important to continue to track the sector and make informed investment decisions.
1. The Health Care Select Sector SPDR Fund
Current Price: $105.70
52-Week Range: $73.54 – 109.74
Dividend Yield: 1.47%
Expense Ratio: 0.13 % per year, or $13 on a $10,000 investment
The Health Care Select Sector SPDR Fund (NYSE:XLV) provides exposure to a wide range of companies in the pharmaceuticals, biotechnology, health care equipment and services.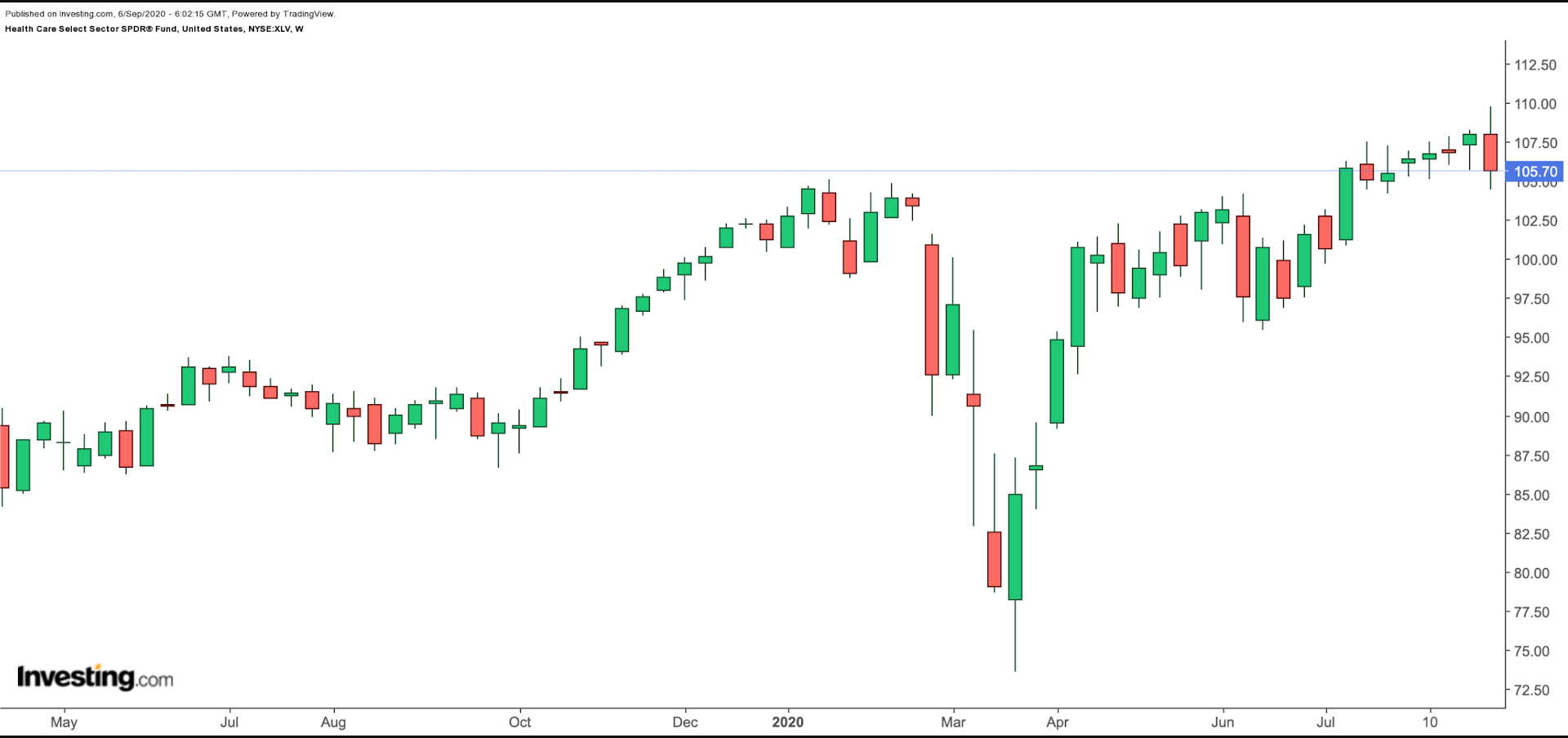 XLV Weekly
XLV, which includes 62 holdings, follows the Health Care Select Sector index. The top ten holdings constitute over half of XLV's assets under management, which stands at $24.5 billion. XLV's top five companies are UnitedHealth Group (NYSE:UNH), Merck (NYSE:MRK), Pfizer (NYSE:PFE), Abbott Laboratories (NYSE:ABT) and Thermo Fisher Scientific (NYSE:TMO).
The sector allocation (by weighting) is Pharmaceuticals (29.11%), Healthcare Equipment & Supplies (27.81%), Healthcare Providers & Services (18.64%), Biotechnology (15.28%), Life Sciences Tools & Services (8.61%) and Healthcare Technology (0.56%).
So far in the year, the fund is up over 3.5%. However, since the lows seen in March, XLV has surged over 40%, so $1,000 invested in early spring would now be worth over $1,400.
Given the recent volatility and profit-taking in broader markets, a decline toward $100, or even $95 is likely. Such a drop would provide a better entry point for long-term investors.
2.iShares U.S. Healthcare Providers ETF

Current Price: $203.19
52-Week Range: $134.50 – 211.64
Dividend Yield : 0.74%
Expense Ratio: 0.42 % per year, or $42 on a $10,000 investment
iShares U.S. Healthcare Providers ETF (NYSE:IHF) is composed of health insurance, diagnostics and specialized treatment businesses.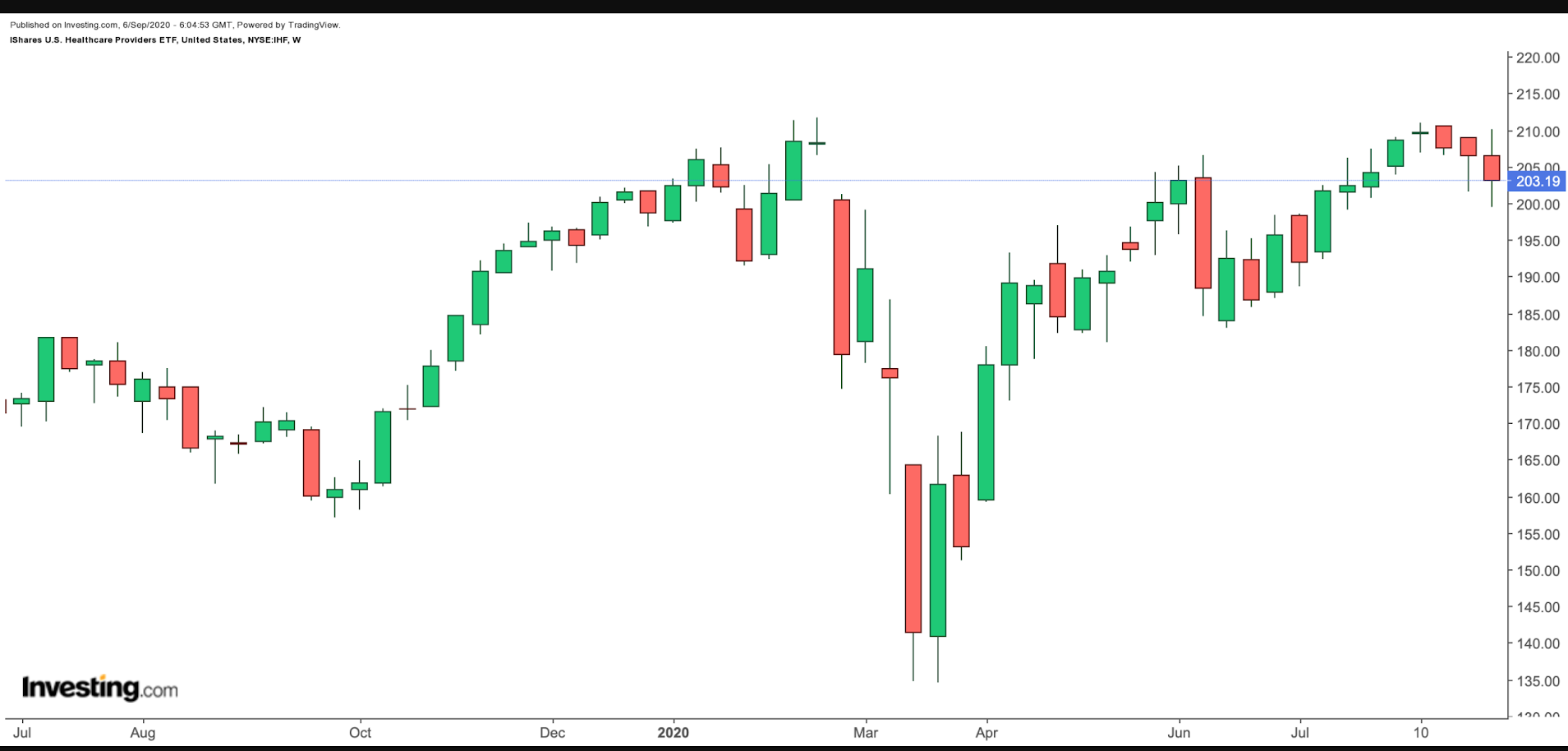 IHF Weekly
IHF, which includes 48 holdings, tracks the Dow Jones U.S. Select Healthcare Providers index. The top ten holdings constitute over 50% of IHF's total net assets, which stand close to $1 billion. The fund's top five companies are UnitedHealth Group, CVS Health (NYSE:CVS), Cigna (NYSE:CI), HCA Holdings (NYSE:HCA) and Humana (NYSE:HUM).
The main sectoral breakdown (by weighting) is Managed Healthcare (40.07%), Healthcare Services (38.26%) and Healthcare Facilities (13.15%).
Year-to-date, IHF is up over 1%. Like XLV, it has also had a significant run-up since March, returning over 50% since then. Therefore, short-term profit-taking is likely to put pressure on IHF, possibly pushing it toward the $190-level. Investors with a two- to three-year horizon may want to buy the dips.