With the S&P 500 finally recovering its losses from the pandemic selloff and setting new all-time highs, there isn't much question the strength of the U.S. market rebound.
Stocks have been big beneficiaries of the U.S. central bank's relaxed monetary policy that's kept interest rates near historic lows to fight the pandemic-driven downturn since March. Fed officials are widely expected to remain dovish when they meet next week.
The Fed holds its annual Jackson Hole symposium starting Thursday when the chairman Jerome Powell is scheduled to speak on the implications for monetary policy and the Fed's anticipated policy framework review.
The S&P 500 added 0.7% over five days, finishing its fourth straight weekly gain. It exceeded the Feb. 19 record high on Tuesday to cap the fastest bear-market recovery in history. Below, are the three large-cap technology stocks we're keeping an eye on in the upcoming week: two have had a significant hand in pushing the broader index to new heights; the third reports earnings during the course of the week.
1. Apple
After wrapping up a big week during which its market cap crossed the $2-trillion mark, Apple (NASDAQ:AAPL) investors will get a 4-for-1 split on the stock after the close of trading on August 24.
Shareholders will receive three additional shares for each one they currently own. Post-split trading will begin Aug. 31.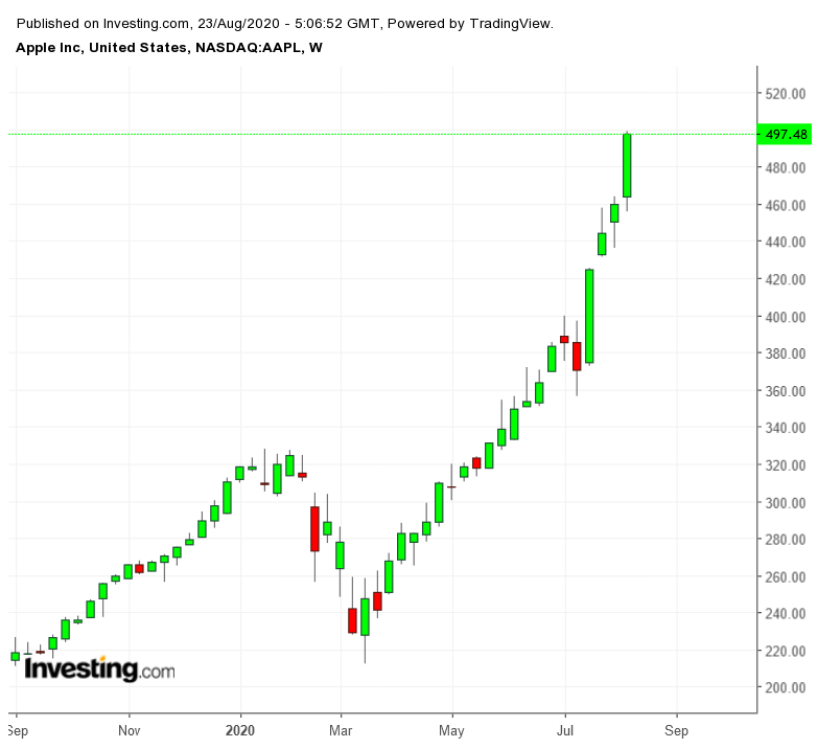 AAPL Weekly TTM
The move has been designed to make the stock more affordable to a broader base of investors, after shares of iPhone maker surged 134% during the past one year, recovering strongly from the pandemic-driven sell-off in March.
Apple closed on Friday at $497.48 with the market cap of $2.12 trillion, making it the first company to reach that milestone. This is the fifth stock split for Apple's shares since the company went public in 1980.
The last split occurred in 2014. Previous AAPL splits took place in 1987, 2000 and 2005.
2. Amazon
Amazon.com (NASDAQ:AMZN) shares could see some activity this coming week after the company's reshuffle of its executive team. Amazon named its logistics head, Dave Clark, as the chief executive officer of its retail business on Friday, after Jeff Wilke, a longtime lieutenant to founder Jeff Bezos, announced he's planning to retire.
Clark, who is 47, will run the Worldwide Consumer unit, a group that's responsible for Amazon's e-commerce empire, including the retail website and the growing logistics operations that stocks and delivers items. In a parallel move, Andy Jassy was named CEO of the Amazon Web Services cloud computing division.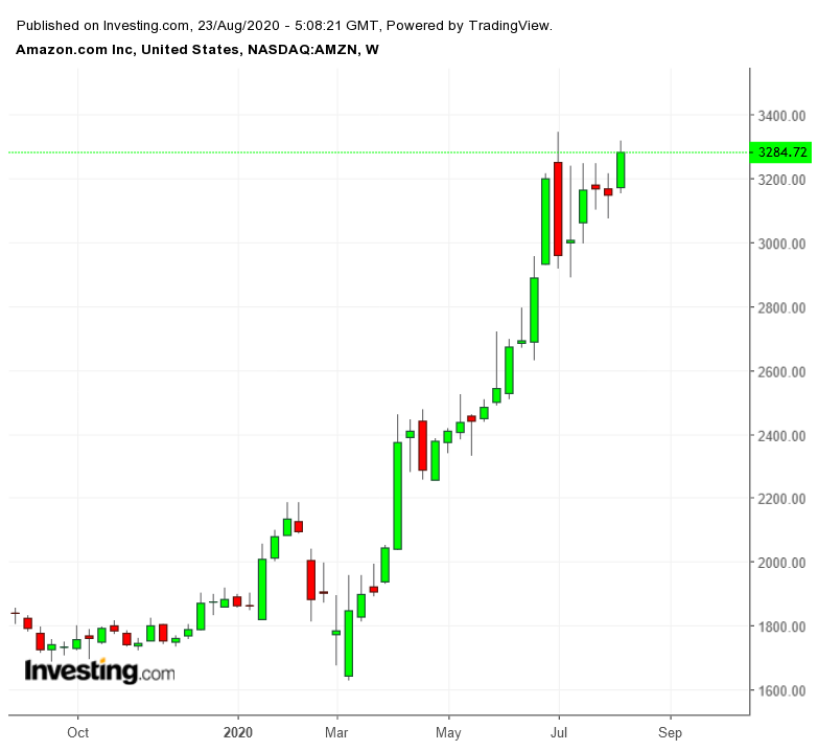 AMZN Weekly TTM
According to Bloomberg, Wilke was widely considered a potential successor to Bezos, so his pending retirement is a surprise to Amazon watchers.
In an email to employees, Bezos also announced three new members of the S-team, the group of roughly two dozen senior leaders who set corporate priorities alongside the CEO.
They are Alicia Boler Davis, vice president of consumer fulfillment, John Felton, vice president of global delivery services, and Dave Treadwell, vice president of e-commerce services. Amazon shares closed on Friday at $3,284.72, down 0.38%.
3. Salesforce.com
Salesforce.com (NYSE:CRM), which sells enterprise software and cloud-based services to corporate clients, will be reporting its quarterly earnings on Tuesday, Aug. 25, after the market closes.
The software provider is forecast to report $4.9 billion in revenue and $0.67 of earnings per share.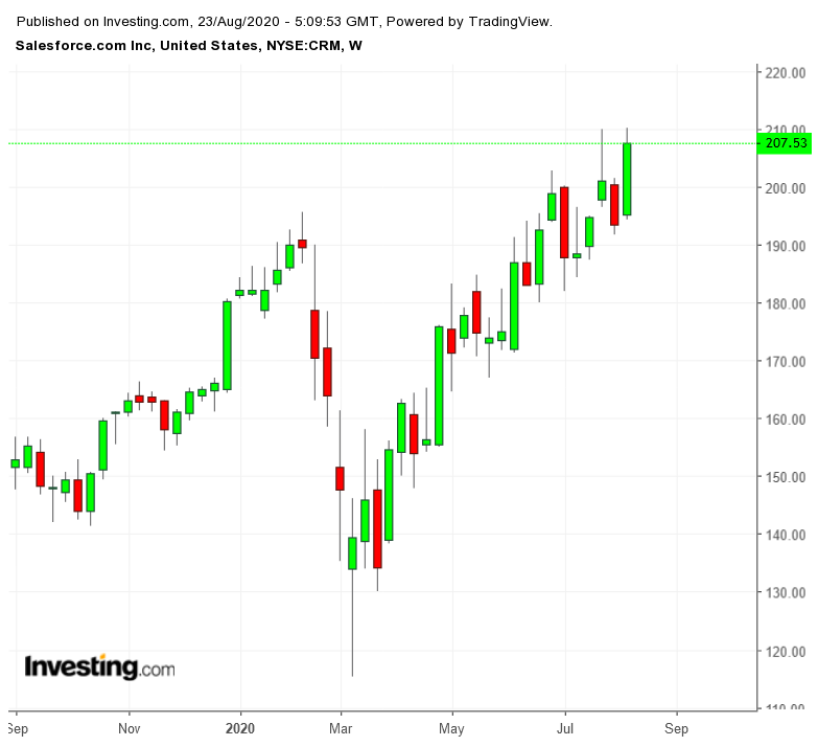 CRM Weekly TTM
Since the company last reported in late May, the stock is up more than 18%. It closed on Friday at $207.53.
At that time, the San-Francisco-based company trimmed its annual revenue and profit forecasts, indicating that the coronavirus-induced recession has weakened demand for the software maker's cloud applications.
The company leads the market in sales-tracking software, but growth rates have slowed over time.