Is it a good time to buy the dip on Aphria (NASDAQ:APHA), (TSX:APHA) stock?
The Canadian Imperial Bank of Commerce thinks so.
That was the implied message from one of Canada's Top Six banks last week when it upgraded the Canadian pot producer to "outperform" without altering its price target of C$7.50 (US$5.68).
The rationale was simple: according to the bank's equity research division, with no "fundamental change," to its thesis on the cannabis producer, the drop in Aphria's share price following the unveiling of its last quarterly earnings created what CIBC sees as an approximately 25% upside on its price target.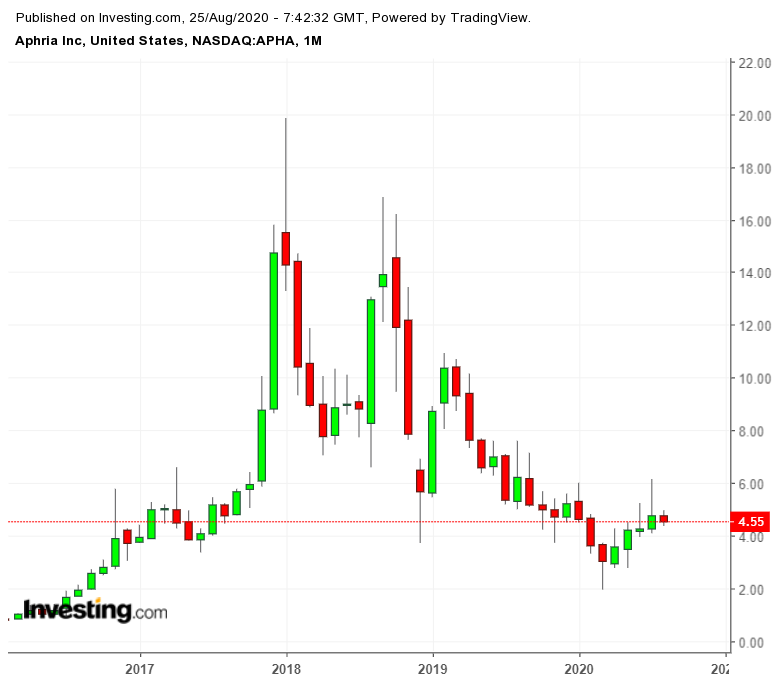 Aphria Monthly Chart
The bank's analysts pointed to Aphria's continued market share growth and improving capital allocations to bolster its view of the stock.
Shares of Aphria had hit a 2020 high of US$6.13 (C$8.02) on July 28, the day before the company presented its fourth-quarter earnings. They dropped to US$4.85 (C$6.52) the next day, suffering an almost 21% loss. The sell-off was triggered by an adjusted net loss of CA$0.14 (US$0.11) per share for the quarter, more than three times what analysts had estimated.
Analysts were expecting the vertically integrated marijuana grower to come in with a loss that would translate to about $0.04 per share.
Looking at the positive side, Aphria registered an 18.4% year-over-year increase in its quarterly revenues, hitting C$152.2 million (US$115.09 million). It was also slightly more compared with its previous quarter's revenue of C$144.4 million (US$109.19). Its fourth-quarter revenue figure included net cannabis revenue of $53.1 million–up 81% on an annual basis. Similarly, Aphria's fiscal 2020 total revenue saw an impressive jump of 129% to hit C$542.2 million.
Aphria shares finished last week trading at US$4.48, and gained slightly yesterday to close up about 1.5% on the day at US$4.55.
In the same note to investors, CIBC also reduced its price targets on two other companies in the cannabis sector–Aurora Cannabis (NYSE:ACB), (TSX:ACB) and HEXO (NYSE:HEXO), (TSX:HEXO).
For Aurora, CIBC wrote, "our F2021 estimate declines by 8%, while our F2022 forecast declines by 10%. For HEXO, our sales estimates in F2021 and F2022 decline by 8% and 14%, respectively."
Investors looking for a cannabis stock that is making a sure and steady climb might want to keep an eye on Curaleaf Holdings (OTC:CURLF), (CSE:CURA). This U.S.-based multi-state cannabis grower has seen its stock rise in the last six months and posted strong earnings results earlier this month, highlighted by revenue numbers that more than doubled the same period last year.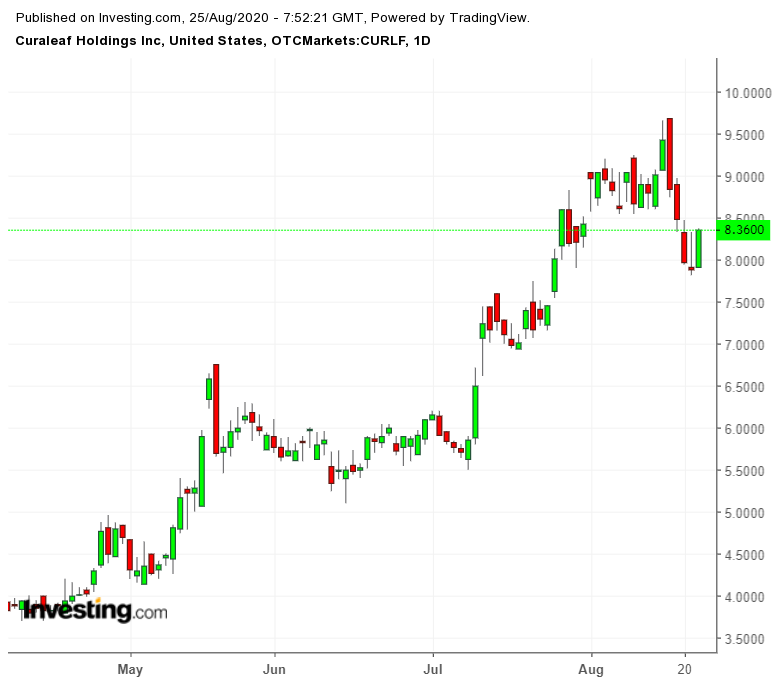 Curaleaf Daily Chart
The company posted US$117.48 million in total revenue for Q2, 22% up from the previous quarter and 142% more than the same period in 2019. It's adjusted earnings before interest, taxes, depreciation and amortization was US$27.994 million, a whopping 534% higher than the previous year.
The grower is also expanding, once operating in 17 states, now CURLF has a presence in 23 states across the U.S., catering both to the medical and recreational markets.
Shares of Curaleaf hit a peak of US$9.555 on Aug. 17, the day it released its latest earnings, and have since slid slightly. Shares closed yesterday at US$8.36, which is up over 216% since the beginning of the COVID-19 lockdowns in mid-March. Curaleaf has gained just over 23% in the last year.