Large influential companies do not always seek to expand the appearance of their power. It is something executives at Apple (NASDAQ:AAPL) might be thinking about as the iPhone-maker grabbed global headlines this week as it became the first company to reach a $2-trillion market capitalization.
Apple has achieved this milestone at a time when tech giants are coming under scrutiny for becoming too big too fast.
On Wednesday morning, Apple's rising share price pushed its market cap to a level no other company ever achieved. Its shares, after surging 60% this year, were among the top gainers during the pandemic, which further boosted demand for connectivity, home entertainment and e-commerce.
Apple, with its popular iPhone and its services ecosystem, was perfectly positioned to benefit from this new environment and further strengthened its market position. This new $2-trillion milestone comes just two years after becoming the first U.S. company to boast a $1-trillion market valuation. The next trillion, however, may not come as easily.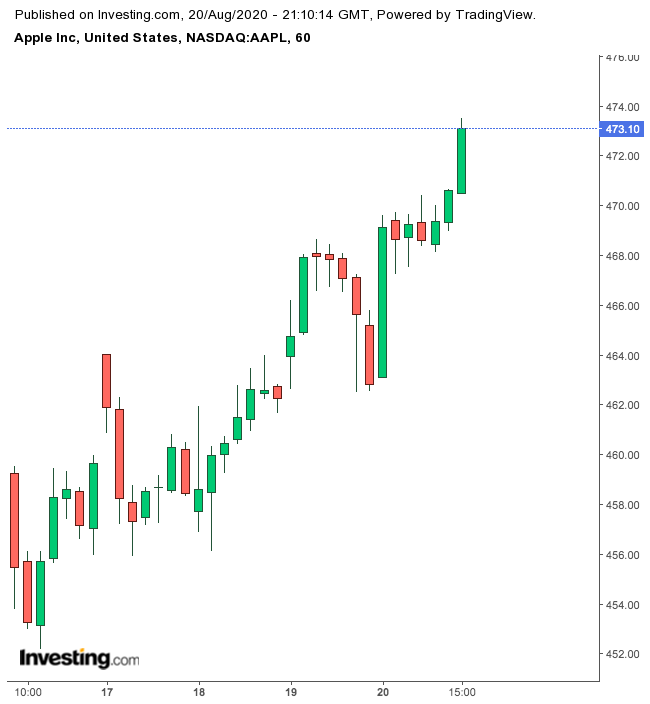 Apple 1-Week Chart.
Below, we summarize three challenges this tech behemoth faces as it continues to grow:
1. App Store Business Under Probe
Apple is facing increased regulatory scrutiny in its two largest markets–Europe and the U.S. In June, the European Union announced it had opened two formal antitrust investigations into Apple, with one of the probes specifically looking into the requirement guidelines of its in-app purchase system.
In many of the cases, tech companies are accused of abusing their dual role as the operator of a marketplace and as a business that competes in that marketplace. If found guilty, Apple could face a fine of up to 10% of its annual revenue and be forced to adjust its business practices.
At the same time, scrutiny of large tech companies is heating up in the U.S. The Justice Department, Federal Trade Commission and Congress are all investigating large technology companies, including Apple, over potential antitrust matters.
In the latest sign that this matter will continue to pose a challenge for the company, Epic Games sued both Apple and Google (NASDAQ:GOOGL) in federal court after its popular "Fortnite" video game was removed from the app marketplaces. Epic sought a restraining order against Apple to prevent the game's removal and to keep Apple from ejecting Epic from its developer program, according to media reports.
2. The 5G Bet
Apple stock's current valuation indicates that the company will soon enter another sales "super-cycle" as the latest phones enabled with the 5G, or fifth-generation technology, will fuel demand. Analysts widely expect Apple to launch its first 5G iPhone this fall.
And these more expensive phones may be a tough sell as the COVID-19 pandemic continues with millions of people facing job insecurity globally. Bank of America's analysts raised similar concerns in a recent note, citing a slowdown in Apple store sales in China.
"Apple is experiencing a slowdown in the growth of Apple store revenues in China…. We worry that this could be a precursor to similar deceleration in other areas once the economies start to reopen like in China."
Apple stock, which closed yesterday at $473.10, is fetching more than 32 times forward earnings–or 31 times excluding $81 billion in net cash on the company's balance sheet. That is also about double the multiple the shares were worth when Apple's market value first crossed the $1-trillion mark in August 2018.
"All a $2-trillion valuation really means is that Apple investors are now willing to pay twice as much for the same earnings outlook," Wall Street Journal's Dan Gallagher says in his analysis.
"With a key business under attack–and a lot of hype about a 5G iPhone being launched this fall into a weakened global economy–that's a big bet indeed."
3. Continuing Innovation
Apple is a company that has thrived on innovation. In order to further power its growth cycle, it has to keep its innovation machine running. In June, Apple introduced an array of software additions to its family of gadgets, including the most drastic changes to the iPhone home screen since the product's release in 2007.
AirPods incorporating surround sound and spatial audio and the Apple Watch supporting more health workouts, tracking user dance movements and sleep, are some of the examples of how Apple innovation aims to use hardware and software integration to drive more stickiness of its ecosystem.
Going forward, Apple needs to release new apps soon that can run with the faster 5G wireless speeds, making phone upgrades more compelling.
According to a Bloomberg report last week, Apple is readying a series of bundles that will let customers subscribe to several of the company's digital services at a lower monthly price.
The bundles, dubbed "Apple One," are planned to launch as early as October alongside the next iPhone line to encourage customers to subscribe to more Apple services.
Bottom Line
Apple has proven to be a great stock for long-term investors and there is no sign that its dominant position is under threat. But after the powerful rally this year that pushed its market cap to the highest in the world, there is little room for it to make any mistakes.