The EUR/USD forex market on the daily chart turned down from a wedge top last week, but it is still in the August trading range. As long as it is in the trading range, it is still in Breakout Mode. That means that the probability of a successful breakout up or down is about the same.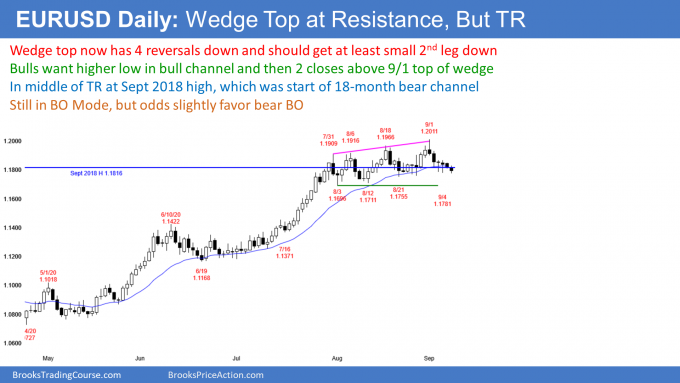 EUR/USD Daily
It has sold off for 6 days, so the odds currently slightly favor a bear breakout. But until there is a breakout, there is no breakout. Traders are ready for a bounce up from the bottom of the range, if the bears fail to get a couple closes below the August low.
Overnight EUR/USD Forex Trading
The 5 minute chart of the EUR/USD Forex market formed a bear trending trading range day overnight. There was a trading range, a bear breakout, and then another trading range.
After dipping a few pips below last week's low, the EUR/USD reversed up from a double bottom. However, it is still in the lower trading range.
The bears want today to close far below last week's low. Last week's candlestick was a bear reversal bar and therefore a sell signal bar for a 4 month wedge top.
Today barely triggered the weekly sell signal, but then bounced back above the low of the sell signal bar. Remember, the EUR/USD has been sideways for 7 weeks. Traders expect reversals down from the top and up from the bottom.
But just like the overnight bear breakout was small, so was the bounce. Traders are still deciding if this breakout below last week's low will continue down to below the bottom of the 7 week trading range. Since most legs up and down in trading ranges lead to reversals and not breakouts, it is more likely that the EUR/USD will bounce today or tomorrow than continue much further down.
Because the 5 minute chart has been in trading ranges overnight, day traders have been scalping for 10 pips up or down. They know that a breakout and a trend can begin at any time. But while they wait, they will scalp.
At a minimum, the bears want today to close below last week's low and at the low of the session. That would increase the chance of lower prices tomorrow.
However, the bulls want today to close above the midpoint of the day and especially above the open of the session. They would then expect higher prices tomorrow.