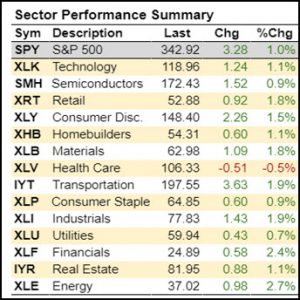 Sector Performance Summary
Yesterday was a "Superbowl day" in disguise. Soon either the bulls or bears will celebrate accordingly.
Which side are you on?
Would you rather buy Tesla (NASDAQ:TSLA) or General Motors (NYSE:GM)? How about Apple (NASDAQ:AAPL) or Chevron (NYSE:CVX)?
Time to dump your Invesco QQQ Trust (NASDAQ:QQQ) and buy the Grandpa Russell's jacked up triple leveraged cousin (Direxion Daily Small Cap Bull 3X Shares (NYSE:TNA)?
Before I suggest a potentially unacceptable answer…
I have to confess…
I'm a fake sports fan who loves sports.
I watch the Superbowl for the commercials, and hope that the game is insanely close. World Series, NBA Finals, March Madness… Same thing.
Why?
I love sports for the games that tests both sides right until the very end.
The markets offer the same opportunity, but…
The big judgement day isn't always scheduled like a sport's season finale, and we (traders) won't call the timely observer a fake trader if they only show up on that big day.
Monday was one of those days. More importantly, what did yesterday potentially reveal about today?
When the leading stocks and sectors gap up to new highs in a big way on a Monday it's like the big game day in sports. When their next move is to sell off sharply, the game gets close.
When the laggards, who also gapped higher (but nobody cared all that much), don't sell off with the leaders, the game starts to have real consequences, and that's what happened yesterday.
As I wrote about here and in Market Outlook over the weekend, the market is ripe for rotation, and how that materializes will likely reveal the character of the next phase of this market.
What we learned yesterday by the markets' reaction to the bullish recovery news that the FDA approved emergency use authorization for convalescent plasma in hospitalized COVID-19 patients, is that's it's possible for the stay-at-home stocks to consolidate, and pass the torch to the recovery stocks to run the next leg of this bull markets marathon.
One day doesn't define a trend, but new trends can often be defined by one day.
The disparity yesterday in the action between the recovery theme and the COVID-19 for longer theme was worth noting.
Below you'll find the intra-day chart of the iShares Russell 2000 ETF (NYSE:IWM) and QQQ.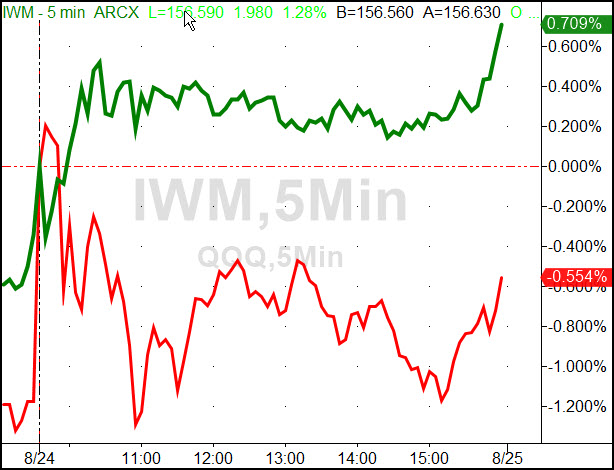 IWM:QQQ 5 Minute Chart
Note: As the QQQ and its hot stocks opened higher and sold off, the IWM and its small cap leaders opened mixed and then ran higher.
However, despite the selling from the higher open, the QQQ ended higher.
As a result, it's the best-case scenario where everyone is left happy (or up on the day).
Enjoy it while it lasts.
Best wishes for your trading.
Key Levels
Note: PDL = Prior day low, PDH = Prior day high
S&P 500 (SPY) All-time high. 340 then 335 are important support.
Russell 2000 (IWM) Closed over PDH. Key level to break above now 10 DMA area of 157, then 160 is resistance area. Bounced off the 20 DMA. 153 is key support lower.
Dow (DIA) Flag to under the 10 DMA broke out to new swing high.
NASDAQ (QQQ) New high. 275 is pivotal support area. 260 is key support level and a trendline.
TLT (iShares 20+ Year Treasuries) Sitting on the 50 DMA.165 is pivotal support then163 is next big support.