Natural gas bulls might just feel like taking a victory lap. And why not?
Prices of the power generation fuel are up 35% since the start of August, and if they stay their course, could finish with a third straight winning week.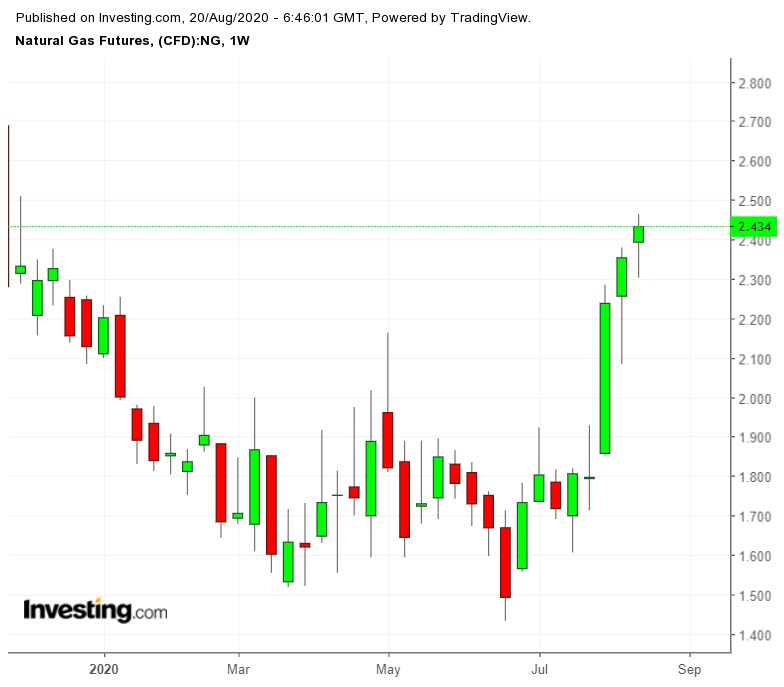 Natural Gas Weekly
Forecasts from NatGasWeather, Bespoke Weather Services and EBW Analytics Group also point to unusual near-term warmth that could prompt Americans to crank up their air-conditioning more often, adding to power burns.
Eight Weeks Of Thin Storage Builds
Storage data due from the U.S. government today at 10:30 AM ET (14:30 GMT) is, meanwhile, expected to show an eight straight week of builds below the triple-digit mark, suggesting gas coming out of the ground was being consumed more than being put away for later use.
"While the market has been looking forward to this build as it contains last week's hot temperatures, it will also include the first indications if this month's higher prices are taking a toll on the proportion of power generation going to gas over coal," said Dan Myers, analyst at Gelber & Associates.
"The magnitude of this injection is likely to move the market one way or the other as it helps determine whether fundamentals can sustain the current rally or whether the recovery has gone too high, too fast," added Myers in an email Wednesday to clients of the Houston-based gas risk consultancy. A copy of the email was sighted by Investing.com.
The September front-month natural gas contract on the New York Mercantile Exchange's Henry Hub, hovered at $2.426 per million metric British thermal units by Thursday afternoon in Asia, versus this month's low of $1.853 per mmBtu. For the week, it was up 2.97%, adding to the previous two weeks of 5.3% and 24.4% gains, respectively. Tuesday's peak of $2.465 for the September contract also marked an 8-month high.
A survey of analysts tracked by Investing.com showed that U.S. utilities likely injected a near-normal 43 billion cubic feet of natural gas into storage during the week to Aug. 14 as higher air conditioning use during hot weather offset demand destruction from the coronavirus.
That injection compared with an increase of 56 bcf during the same week a year ago and a five-year (2015-2019) average build of 44 bcf for the period.
In the prior week to Aug. 7, utilities injected 58 bcf of gas into storage.
If analysts are on target, the increase during the week ended Aug. 14 would boost stockpiles to 3.375 trillion cubic feet (tcf). That would be about 15.1% higher than the five-year average and 21.4% above the same week a year ago.
Hotter-Than-Normal Weather
The weather was hotter-than-normal last week, with 102 cooling degree days (CDDs), compared with a 30-year average of 85 CDDs for the period. CDDs, used to estimate demand to cool homes and businesses, measure the number of degrees a day's average temperature is above 65 degrees Fahrenheit (18 degrees Celsius).
Myers of Gelber & Associates said another warm change to weather forecasts in the six-to-ten day period was strengthening power demand forecasts for next week, with heat working its way across the U.S. Midwest and Northeast regions.
Analysts at EBW were quoted by Naturalgasintel.com as saying they saw the recent NYMEX gains as being "durable" from a seasonal perspective based on fundamentals. They noted that the seven-day moving average for production has moved 0.4 bcf per day lower over the past week, while the seven-day moving average for LNG feed gas demand had climbed 0.5 bcf daily.
"While core fundamentals will not tighten at 0.9 Bcf/d per week forever, as long as LNG exports continue to rise while production declines, natural gas prices are likely to remain on an upward trajectory." naturalgasintel.com quoted an EBW note as saying.
The current end-of-October storage trajectory nearing 4 trillion cubic feet may limit further upside, and any bearish catalyst, such as possible demand losses from brewing tropical storms, "may trigger a near-term correction."
Mobius Risk Group, meanwhile, noted that gains have extended further out the curve as well, with 18 positive daily changes logged for the November 2020 NYMEX contract since early July and 17 positive daily changes for November Title Transfer Facility (TTF) futures. Over that same period, there have been 11 down days for the November NYMEX contract and 14 down days for the corresponding TTF contract.
In the naturalgasintel.com post, Mobius said:
"From start (July 7) to finish (Aug. 18), the November NYMEX contract has increased by 51 cents and November TTF has moved up 38 cents."
Benefits For LNG Too
The linkage between the domestic natural gas markets at downstream markets in Europe was also growing stronger, particularly on the liquefied natural gas front, according to Mobius.
Furthermore, with the spread to Asia for the same delivery month at less than $2.00, the same could be said of the relationship between Henry Hub and the Japan Korea Marker (JKM). Mobius drew attention to the fact that this wasn't a new dynamic, as an even more significant decrease in the TTF/JKM destination markets precipitated the collapse in Henry Hub earlier this summer season.
Myers concurred with that view, saying:
"The US is not the only country seeing hot temperatures press prices higher as LNG benchmarks in Asia and Europe have also undergone a considerable recovery since slipping to all-time lows back in late May and early June."

"Impressively, the Japan-Korea Marker (JKM) prices have surged above $4 this week, while the Dutch trading hub TTF has also seen prices above $3/MMBtu."
According to Myers, in Europe, reduced LNG cargoes from the US as well as strong coal-to-gas fuel switching have begun to provide balance to the market in recent weeks.
"As the summer has gone on, European storage fill has slowed down sharply and, although inventories remain at the top of the 5-year range, they are now almost in line with 2019's levels," he said.
"With the international price recovery confirming a strengthening LNG market outlook, it has been a boon to Henry Hub prices."
US cargo cancellations for October are likely to be released later this week and should detail an even further reduction from September's 15-26 cancellations as U.S. LNG export flows look to normalize in the late fall and winter.