Video-streaming giant, Netflix (NASDAQ:NFLX) has been one of the strongest equity performers during the pandemic. The company and its stock benefited from the stay-at-home environment, which spurred demand for its content.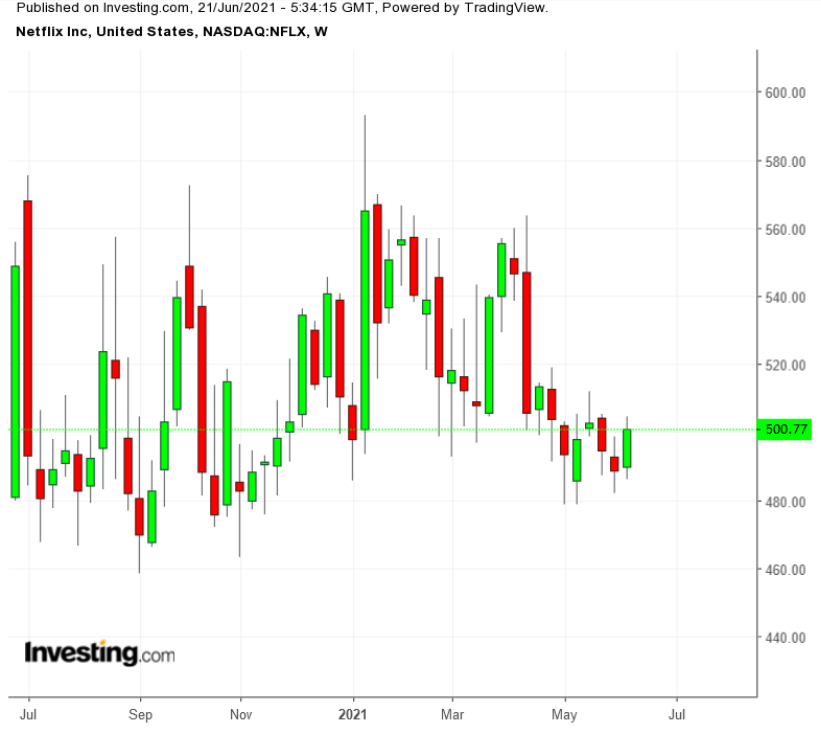 NFLX Weekly TTM
The stock surged about 90% off the low it hit on Mar. 16, 2020 until mid-October. But since then, it's been a journey downhill for the equity. Its shares have fallen more than 17% from its peak last year. The first sign that the COVID-19 related growth in subscribers is ebbing quickly came in April when the Los Gatos, California-based company reported that the number of net new members was 2 million short of its own forecast.
Worse, Netflix predicted it will add just 1 million subscribers in the second quarter, which is ending this month. This sudden slowdown demonstrates the return to normalcy for consumers as local economies reopen following a year of lockdowns and stay-at-home mandates.
That's happening much earlier than expected in North America. In both the U.S. and Canada, quarterly subscriber gains have slipped into the realm of hundreds-of-thousands from millions. For the current period, Netflix projects the figure may even be flat.
In a situation where the economy is reopening and people are desperate to enjoy experiences outside their homes, such as travel and dining out, programming on Netflix could be at the bottom of their to-do lists. For Netflix, this change in its business environment comes as rivals are spending billions of dollars to gain a foothold in the streaming world NFLX once dominated.
Disney+ (NYSE:DIS), for example, topped 100 million users in just 16 months after its U.S. launch in November 2019. It rolled out in Canada, Australia, Latin America and Singapore in the following months. Netflix had 208 million subscribers at the end of the first quarter.
Still, if the battle in the post-pandemic world is to keep subscribers from cancelling their subscriptions, then it's clear that Netflix remains well-positioned to win this race. According to Netflix's quarterly letter to shareholders, the churn rate, or number of subscribers ditching the app, was down from a year ago–even after the service raised its subscription price.
Another positive development that long-term investors should take into account is that Netflix is no longer dependent on debt to fuel its growth. After years of borrowing to fund production, Netflix has said it no longer needs to raise outside financing to support day-to-day operations. The company plans to reduce debt and will buy back up to $5 billion of shares.
According to research firm Jefferies, Netflix has solidified its position as a streaming video leader and its stock price should rebound strongly in the months ahead. In a recent note the firm said:
"We're assuming coverage of NFLX right as the company turns the corner towards positive free cash flows and return of capital. Despite using popular 3rd party content to build its subscriber base and achieve economies of scale, NFLX is now in a position to self-fund an original content offering that rivals the entire TV/Movie industry combined."
Jefferies has set a $620 per share for the stock, which is 24% above where shares closed on Friday. They also noted that the reopening was still a "near term overhang" for Netflix, but, the entertainment company remains in a strong position going forward.
Bottom Line
Netflix's pandemic-era boom in subscriber growth seems to have come to an end as the economy reopens and people resume their normal activities. But the streaming company has emerged much stronger from the unique environment of the past year, solidifying its cash and the market position.
The current weakness in its stock provides a buying opportunity for long-term investors.