After soaring 76% in 2019, shares of chipmaker NVIDIA Corporation (NASDAQ:NVDA) are on fire again. The stock has more than doubled in 2020, fueled by surging demand for its chips used in data centers and gaming consoles.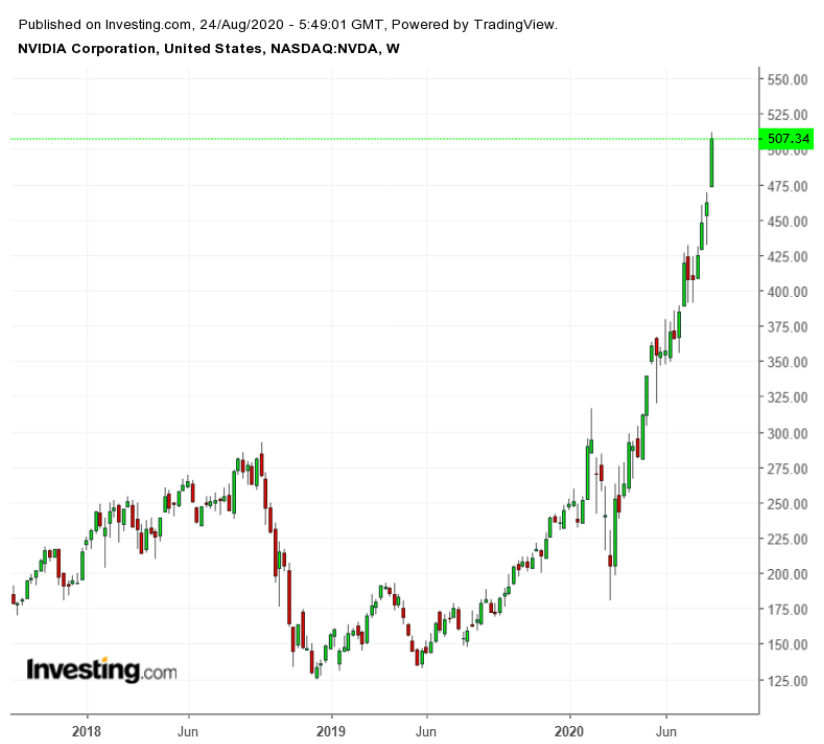 NVDA Weekly 2017-2020
A strong and impressive rally in NVIDIA shares during the current global health crisis clearly separates this semiconductor stock from the rest of the crowd. NVIDIA's shares have hugely outperformed the Philadelphia Semiconductor Index, which is up about 19% since the start of 2020. NVIDIA gained about 4.5% on Friday to close at $507.34.
The key question for investors, however, is just how much more runway exists for this stock, especially when it's trading at the highest price-to-earnings multiples in nearly a decade.
After the stock's powerful rise this year, NVIDIA is now one of the most richly valued chip stocks with a price-to-earnings ratio of 86.36, fetching almost three times the semiconductor group's average multiple of 30. That makes the stock susceptible to correction on any negative surprise, especially when the economic and geopolitical environment remains fragile.
Santa Clara, California-based NVIDIA is the biggest maker of graphics chips used in personal computer gaming. Over the past few years, the chipmaker has successfully adapted its technology for the Artificial Intelligence market, creating a new multi-billion-dollar business.
Still, the majority of the company's sales come from PC gaming, where NVIDIA's graphics chips create the most realistic experiences. Top-of-the-line GeForce parts cost more than many consumers spend on a whole PC.
NVIDIA's last earnings report provided some mixed signals about the company's performance for the rest of the year. While sales figures from data centers soared 167% and gaming was up 26% in the second quarter, Chief Financial Officer Colette Kress said during a conference call that sales will grow in the "low-to-mid single digits" percentage range in the fiscal third quarter, compared with the previous quarter.
While demand from major cloud service providers remains solid, the company has a more "mixed" outlook on spending by companies in some industries, the CFO added during the conference call, as cited by Bloomberg. NVIDIA is also facing some demand slowdown from cyclical industries, such as autos.
But despite this cautious note from management, analysts are generally upbeat about NVIDIA.
Bank of America analyst Vivek Arya raised his price target on the stock from $520 to a high of $600, an 18% upside from Friday's close.
Arya based his bullish forecast on continued secular momentum with new product cycles (next gen 7nm Ampere launch) and recovery in cyclical autos offsetting a potentially 'lumpy' data center business. According to the analyst:
"Bigger picture, we believe NVDA has an unassailable hardware / software / developer lead in some of the largest and fastest growing markets in semis/tech (AI, Gaming, Autonomous), all derived from a common architecture."
Jefferies analyst Mark Lipacis, who raised his price target to $570, says NVIDIA has been able to create an ecosystem in chip manufacturing that powers the heart of AI and machine learning.
"We think the company will continue to surprise on the upside, and wouldn't be surprised to see NVDA undertake more M&A to build out its data center system capabilities," he said in a note.
BMO Capital analyst Ambrish Srivastava also maintained his outperform rating while raising its price target to $565 from $425 in a recent note.
"Given the continued run in shares, expectations are high. However, we expect the company to deliver on earnings and expectations."
Bottom Line
NVDA is well-positioned to benefit from the global shift to working, studying and entertaining from home. This trend has produced a perfect growth scenario for NVIDIA which has chips to satisfy this demand. In the short-run, there is little reason to believe that the current rally has run its course.