In his 20-year reign as Saudi Arabia's petroleum minister, Ali Al-Naimi probably set the gold standard for energy policymakers for the kingdom, as well as for global oil diplomats.
The son of a pearl diver, who spent his early years raising sheep, Naimi eventually went to Stanford University to study geology and also attended Harvard and Columbia Universities. In his time as the de facto chief of the Organization of the Petroleum Exporting Countries (OPEC), the gregarious minister made news for what he said–as well as what he did not.
Even in the throes of the 2014 crude price crash caused by the U.S. fracking boom, traders respected–even feared–Naimi. They knew he held the levers of the world's most influential oil producer. Naimi returned the respect by never disputing the market as the arbiter of price–despite Zaki Yamani, the Saudi oil minister of the 60s and mid-80s, proudly proclaiming once that "we are the masters of our own commodity".
Khalid Al-Falih, Naimi's successor in 2016, was a far more conservative figure, whose time in office–just three years–was considerably less than most of his predecessors. Bogged down largely by the U.S. shale oil threat, Falih was responsible for creating the single most important Saudi oil partnership in this era–with Russia.
That pact was the basis for the foundation of OPEC+, the 23-nation oil alliance born out of the original 13-member OPEC. Almost diffident to a point, Falih never believed in challenging the market with rhetoric, instead using supportive data whenever necessary to make his case.
Enter Abdulaziz bin Salman, the fourth son of present Saudi King Salman and a career oil man who spent three decades climbing the ranks of the kingdom's energy ministry before taking the top job from Falih in 2019. AbS, as he's referred to, isn't exactly known for quiet diplomacy.
Speaking to the media via a video link after he had just chaired an OPEC+ meeting, AbS threatened to make life "hell" for oil bears who bet against the cartel.
Barely disguising his contempt for those who drove down oil prices by a combined 13% over the past two weeks, AbS seemed keener to raise fear among sellers of the commodity rather than addressing their concerns about demand amid the COVID-19 pandemic.
When asked about OPEC's next steps he said:
"Anyone who thinks they will get a word from me on what we will do next, is absolutely living in a La La Land… I will make this market jumpy. I'm going to make sure whoever gambles on this market will be ouching like hell."
The cartel would take a proactive and preemptive stance in addressing oil market challenges, he said, reinforcing his strategy to surprise rather than inform.
Not content with his attempt to scare the trade, AbS threw in a dare. "Make my day," he said, abbreviating the quip used by Hollywood star Clint Eastwood in the Dirty Harry detective movies: "Go ahead, make my day."
As the swing producer of oil–meaning it has enough crude for its own requirements, and the capacity to supply others–Riyadh knows it can rely on traders' fear of a supply squeeze to get the market moving its way. Yet, no single Saudi oil official in recent memory has been as brazen about playing the fear card as AbS.
Of course, one can argue that Thursday's comments were nothing more than a joke by the minister, who happens to be the elder half-brother of Mohammad bin Salman–the Saudi Crown Prince who goes by the initials MbS and who isn't exactly known for his humility or humanity.
But if AbS was indeed serious–and there's nothing to suggest he wasn't–the timing of his retort seemed odd, considering that the oil cartel he ran had its own dire assessment about oil demand just days earlier.
On Monday, OPEC announced a lower forecast for oil demand growth, citing weaker-than-expected recovery in India and other Asian countries, and warning that risks remain "elevated and skewed to the downside" for the first half of next year.
In its closely-watched monthly report, the Vienna-based organization reduced its outlook for global oil demand in 2020 to an average of 90.2 million barrels per day. That's a 400,000 bpd drop from the previous month's estimate and reflects a contraction of 9.5 million bpd year-on-year.
The Paris-based International Energy Agency followed up the OPEC report with its own, saying it expects global oil demand growth to fall by 8.4 million barrels per day year-on-year to 91.7 million bpd. That is a deeper contraction than the 8.1 million bpd decline previously estimated.
The OPEC and IEA reports came as the end of the peak summer driving season in the U.S. cemented traders' worries about demand for gasoline consumption.
Some OPEC+ members such as Iraq and Nigeria–as well as top Saudi allies UAE and Russia–were also falling short of production cuts pledged in April.
But in Thursday's live streamed virtual meeting, Abdulaziz along with Alexander Novak and Suhail Mohamed Mazrouei, his counterparts from Russia and UAE, respectively, sought to assure that all "cheaters" in OPEC will make up for production quotas flouted.
The alliance also committed to continue the April agreement into December despite some, like the Saudis, deciding to raise output.
For now, OPEC's assurances and AbS' fear game seem to have paid off.
New York-traded West Texas Intermediate, the key indicator for U.S. crude price, settled Thursday's trade up 81 cents, or 2%, at $40.97 per barrel. In Friday's trade in Asia, WTI extended its rally, pushing gains for the week to more than 10% and offsetting a chunk of the 13% it lost in two previous weeks.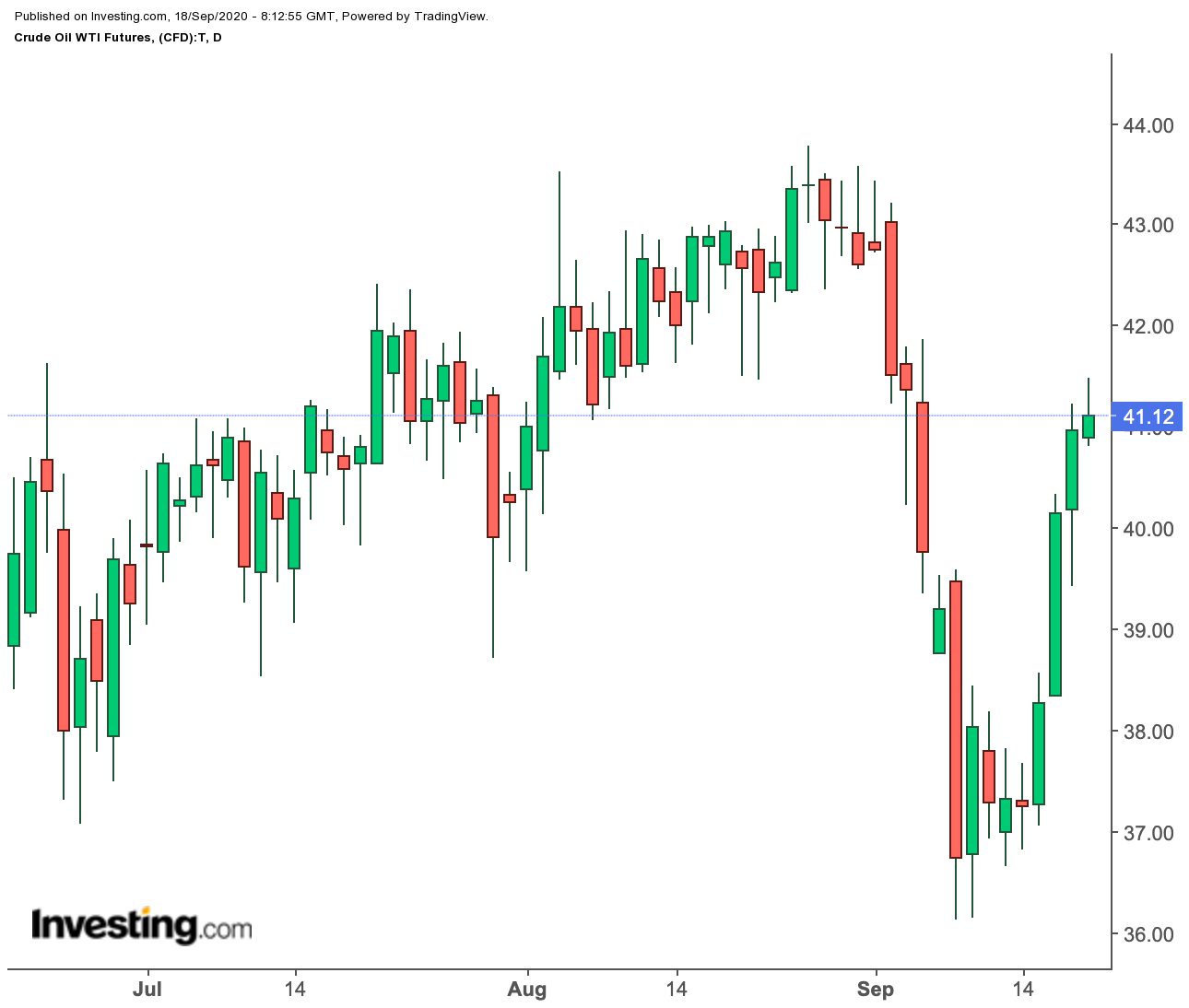 Oil Daily
London-traded Brent crude, the global benchmark for oil, settled up $1.18, or 2.9%, on the day at $43.40 per barrel. For the week, it rose 8.7%.
But some are not too sure how long it will be before the market's "animal spirits" start to rise above the game played by the Saudi oil minister.
"Jet fuel demand is still in the pits and gasoline isn't picking up well either, despite some stockpile drops," said John Kilduff, founding partner at New York energy hedge fund Again Capital. "I think AbS will find more challenge from the bears."