The NASDAQ and S&P 500 rewrote highs on Wednesday but soon turned down and continues to do so Thursday morning. The media associate the correction with the cautious forecasts of the Fed. However, on the contrary, this should be considered as a positive signal, because it reflects readiness to help the economy further.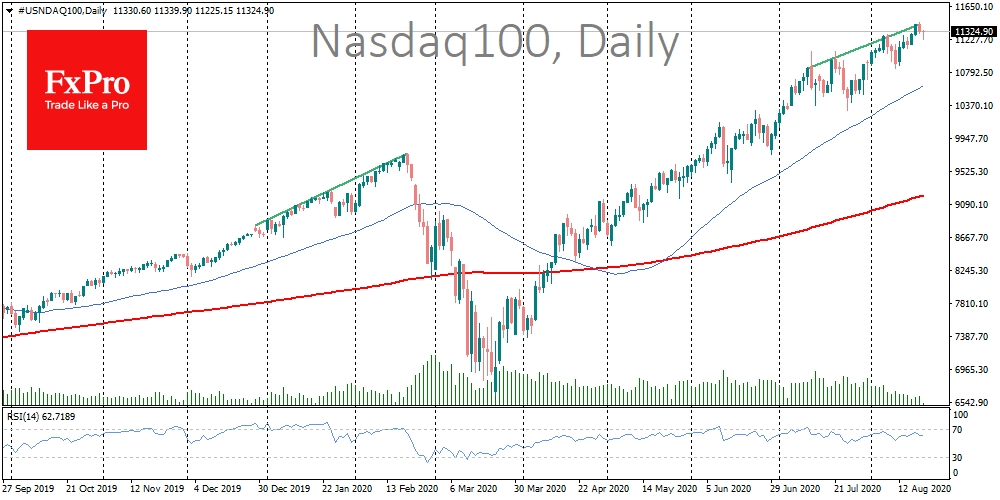 Nasdaq rewrote highs on Wednesday but soon turned down
In our opinion, it would be much more dangerous for the markets to believe that the Fed considers reducing monetary support, as this may lead to massive sell-offs.
It is easy to get confused with the current stock market signals, which renews highs in the ashes of a ruined GDP. The foreign exchange market behaves much more reasonably in this context. Moreover, it is easy to notice the increasing influence of fundamental factors on the dynamics of rates.
In previous months, the US dollar tanked against a wide range of European currencies, due to the United States experiencing an increase in the number of daily new COVID cases, while Europe was relaxing its restrictions. For the economy, it meant an obstacle to a broader recovery in the U.S. against a better picture in Europe.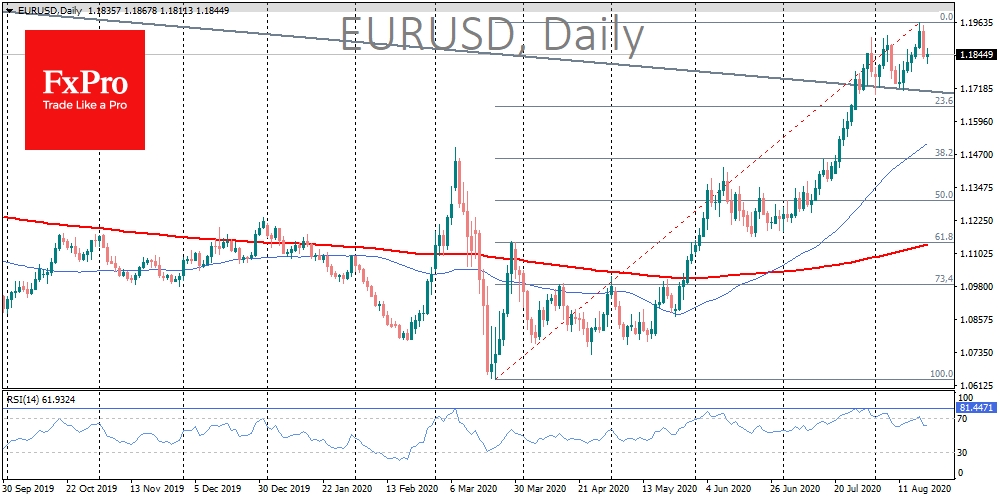 EURUSD: correction or just short stop
The weak dollar fed the growth of markets, as it forced investors to look for ways to preserve the value of capital. In the last few days, however, the wheel has gradually turned.
The U.S. began to receive encouraging news on economic activity, and the number of new infections dropped. In Europe, by contrast, the number of new cases is increasing, forcing politicians to re-enforce some of the coronavirus restrictions. In the worst-case scenario, this could turn into a second recession, increasing the speculation of a W-shaped recovery instead of a V-shaped one.
Improved performance in the U.S. could bring back some of the faith in the dollar. Besides, the U.S. currency turned out to be pretty oversold after the collapse in recent months. In these conditions, buyers of the dollar may partially take the profit from its sales earlier, as well as those who bet on the acceleration in the U.S. against the slowdown in Europe.
The coronavirus dynamics data may once again prove to be a reliable advisor to the future movements of the EUR.USD rate, causing the development of retracement in the pair after a month and a half rally with potential targets at 1.1650 or lower, to 1.1450.
The FxPro Analyst Team