* Reports Q2 2020 results on Tuesday, Aug. 25, after the close
* Revenue expectation: $4.9 billion
* EPS expectation: $0.67
When Salesforce.com (NYSE:CRM) reports its second-quarter earnings later today, investors will be keen to know whether its latest acquisitions are helping to fuel growth.
Salesfore.com, which sells software and cloud-based services to corporate clients, has expanded massively in recent years after a spree of acquisitions–part of its plan to diversify its revenue base and power further growth.
The San Francisco-based customer relationship management firm last year acquired software maker Tableau Software for $15.3 billion, its largest transaction to date. The deal was part of its move to expand into the business intelligence market.
The company's latest earnings reports show that these bets have begun to pay off. Salesforce has been profitable for 10 of the 12 most recent quarters, and acquisitions have helped the company become less reliant on its premier Sales Cloud product.
In the company's most recent quarter, the largest proportion of subscriptions and support revenue was in the "Platform and Other" category, which includes contributions from integration software MuleSoft and charting tools provided by Tableau. The "Platform and Other" segment delivered 30% of subscription and support revenue, compared with 15% five years ago.
Investors and analysts are excited about the Salesforce growth prospects even after the surprise departure of co-chief executive officer Keith Block early this year, making Marc Benioff the sole CEO once again.
Salesforce shares are up 24% this year, rebounding strongly from the March dip. They closed Monday at $208.46, up 0.45% on the day.
Despite this mostly bullish outlook, Salesforce is facing some headwinds from the tough operating environment in the aftermath of the COVID-19 pandemic. While announcing Q1 earnings in late May, the company trimmed its annual sales forecast, indicating that the coronavirus-induced recession has weakened demand for the software-maker's cloud applications.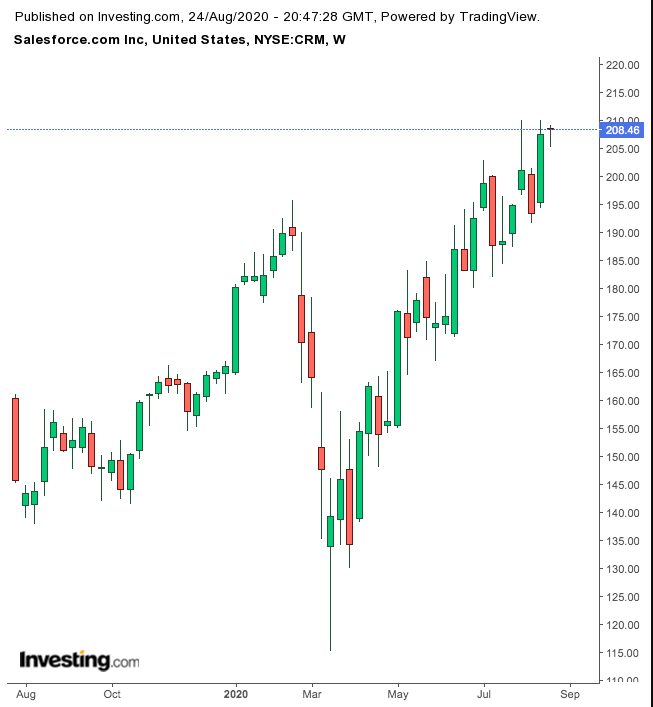 Salesforce.com 1-Year Chart.
Sales in fiscal 2021 will be about $20 billion, down from an earlier projection of as much as $21.1 billion. The company expects profit, excluding some items, of $2.93 to $2.95 a share.
Benioff, while acknowledging these threats, believes that the company's business model is strong enough to deal with the short-term challenges and maintain its long-term earnings potential.
In the past quarter, Salesforce announced a deal with AT&T (NYSE:T), one of its biggest, that will allow the wireless giant to compile customer data into one place and access it from multiple touch points.
Bottom Line
Salesforce has a great track record of delivering consistently higher growth over the past decade. Despite a trimmed sales forecast for the current fiscal year, Wall Street remains confident in its growth going forward, especially after its latest acquisitions that provide a broader presence in a number of key markets. For these reasons, we believe any post-earnings weakness should be taken as a buying opportunity.