SP 500-Russell 200 Chart
S&P 500: Red, Small Caps: Blue, International: Green
The S&P 500 broke out to a new all time high this month. The bear market is technically over almost as fast it began. As of Friday's close the S&P 500 is up 7.5% YTD while international stocks are down 3.75% and small caps are down 7.10%.

SP 500 Chart
Small Caps: Blue, S&P 500: Red
Before everyone gives up on small caps, the 20 year chart above shows small caps have almost doubled the performance of the S&P 500. If your a long term investor that can handle the additional risk, stick with it!
Economic Data:
Let's briefly review some of the key data points this month
Sentiment indicators understandably showed a pullback from the prior month and year over year levels for both the small business and consumer side.

Sentiment Indicators May 2012 – Apr 2021 Chart
NFIB Small Business – 98.8, which is -2% from the prior month and -6% year over year.
Consumer Confidence – 84.8, which is -7.5% from the prior month and -37% year over year.

NIFB Small Business/Consumer Confidence Nov 2014 Chart
Perhaps the most impressive piece of data was the new cycle high reading on New Homes Sales. New Homes Sales is widely considered a leading indicator, although in this case it may not be telling the whole story. Impressive nonetheless.
New Home Sales – 901K, +14% from the prior month, and +42% year over year.
Conference Board's Leading economic indicators increased 1.4% for the month.
Core Retail Sales increased 1.9% and total retail sales increased 1.2%

New Home Sales Chart
Weekly Unemployment Claims briefly ticked back up over the 1 million mark, but finished the month dropping from 1.1 million, to 1.006 million, to 881K. (What times we are in when 881K people filing for unemployment is considered "better than expected news").

Unemployment Rate
The unemployment rate ticked down to 8.4% from 10.2%.
ISM Manufacturing came in at 56 (which is a 19 month high), +3.2% from the prior month, and +14% year over year.
ISM Services came in at 56.9, which is -2% from the prior month, and +0.89% year over year.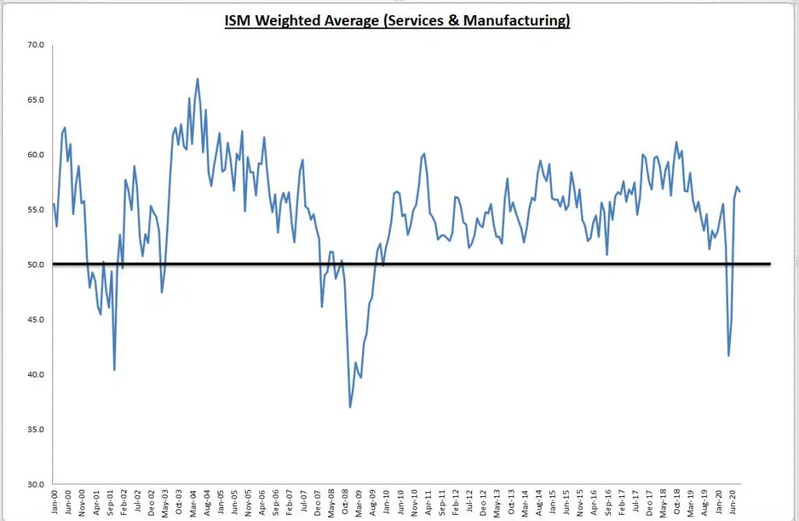 ISM Weighted Average (Services & Manufacturing)
The weighted ISM still shows an economy solidly in expansion territory.
Weighted ISM: 56.7, which is -0.70% from the prior month, and +3.85% year over year.
Valuation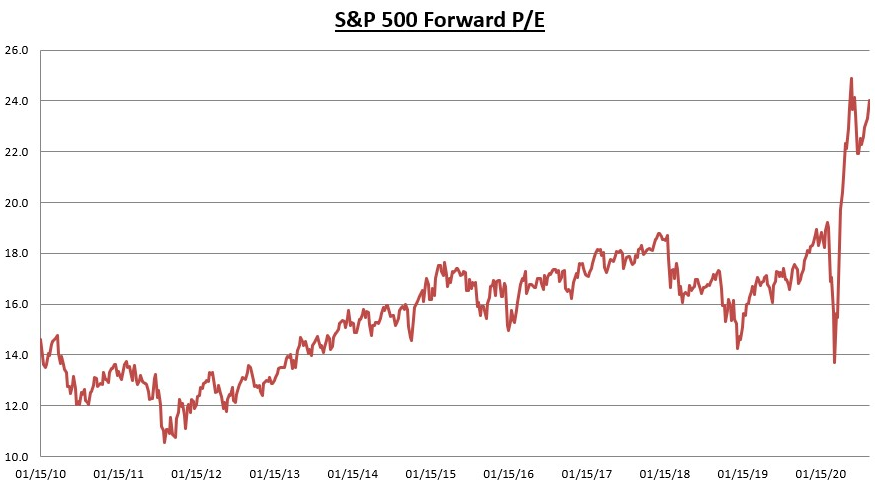 SP 500 Forward PE Chart
The Forward PE on the S&P 500 stands at 24x.
This is to be expected when you have a 10-year treasury rate below 1%. The earnings yield on the S&P 500 is 4.16%. So even if the 10 year rate moved into the 2-3% range, that alone wouldn't be cause for concern.
The Feds "inflation targeting" policy basically tells us its unlikely the Fed Funds rate will be raised above 0% for years. Which could act as a magnet to the 10 year rate.
Earnings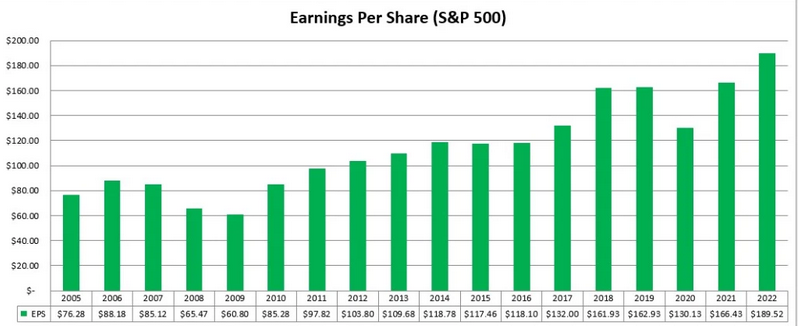 S&P 500 EPS Chart
Earnings post 2020 are looking pretty good. As of last week the estimates are for +28% growth in 2021, and +14% growth in 2022.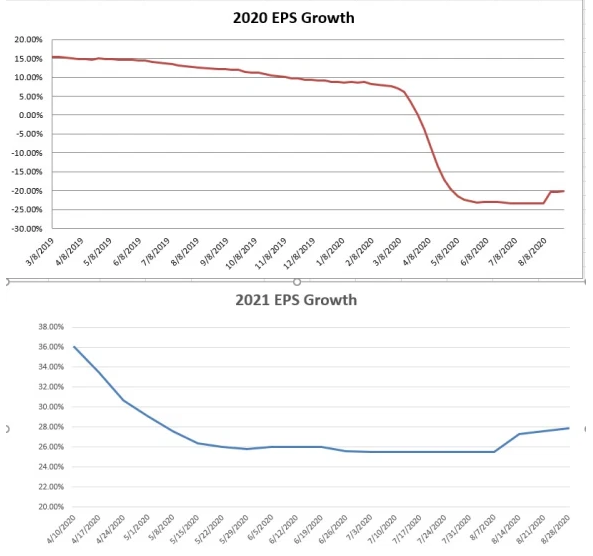 2020 & 2021 EPS Growth
There is some evidence that estimates have bottomed out and are starting to tick up again.
Conclusion
Regular readers know I've been modestly bullish throughout 2020. I do think the economy is doing better than many realize and the Fed's policies are quite bullish long term. There are significant structural issues that will need to be addressed. Everyone assumes things will be much better on the virus front come this time next year, and I happen to agree. But will there be a structural shift in the way we go about our lives, that will have a long term negative impact on our society?
I don't believe the government has the resources to backstop millions of people forever. It will be quite interesting to see how it plays out. After 9/11, the sentiment was that no one would ever fly again. Yet, by February there were more people flying than ever. I doubt the bounce back will be as swift in this case. But I hope the resilience remains the same.
On the markets, the S&P 500 has gone up 60% from the March lows and the NASDAQ has gone up 80%. A correction is normal and highly likely. Thursday's price action may have been the start, but we'll see. Like it or not, we are back on the Fed watch.
People have been saying for many years "the Fed is out of bullets". I never understood that statement. Theoretically the Fed has unlimited ammo as long as inflation isn't a problem. The change in policy this month, was no surprise to anyone who has been following. I'm concerned the Fed is trying to create stability by attempting to manipulate very unstable assets.
The bottom line is to stay disciplined. Don't fall into the temptation to take on more risk than your tolerance and time frame can handle. It's easy to lose focus, but very costly.