This article was written exclusively for Investing.com
The NASDAQ 100 ETF (NASDAQ:QQQ) has dropped by more than 10% since its peak on Sept. 2, and that decline could be about to grow much worse. The options market is getting active again, with some top technology stocks seeing some notable put buying and call selling, and indication traders seeing stocks falling. The last time we witnessed this type of activity was around Aug. 28, just before the market peaked
On Sept. 16, there was a surge in spread transactions across multiple top technology stocks, such as Facebook (NASDAQ:FB), Apple (NASDAQ:AAPL), and Microsoft (NASDAQ:MSFT). Traders appeared to be betting that these stocks would head lower from their current prices by the middle of October.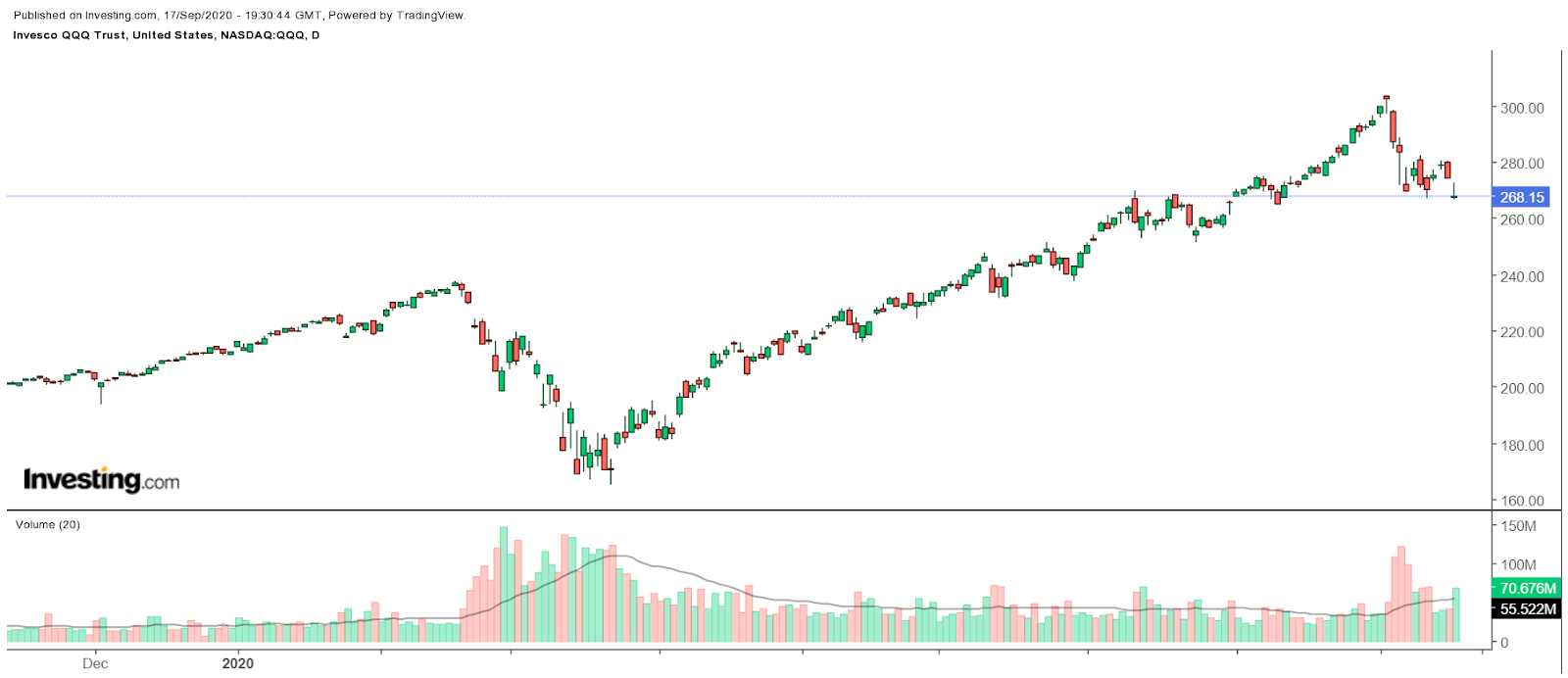 QQQ Daily
The technology sector has been one of the hottest in the market, with the NASDAQ 100 ETF up over 60% from its March lows, as valuations hit some of their highest levels in decades. Nothing may epitomize how far valuations have climbed more than the red-hot IPO Snowflake (NYSE:SNOW), which more than doubled on its first day of trading–the stock's valuation reached about 110 times sales.
Betting Stocks Drop
The open interest levels rose for the Oct. 16, Facebook $270 puts and calls by around 12,000 contracts apiece. The data shows the puts were bought for about $12.55 per contract, while the calls were sold for approximately $13.10 per contract. It creates a bearish spread transaction, which suggests that Facebook is below $270 by the time the expiration date arrives.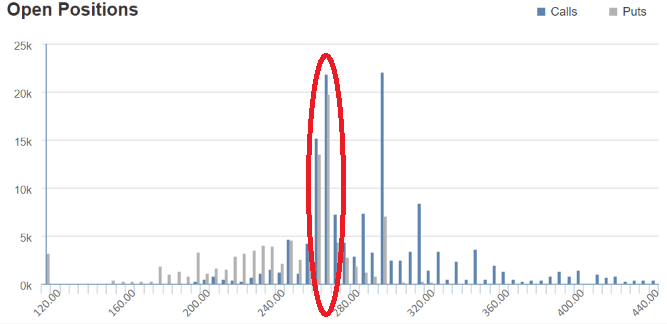 A cell
Additionally, Apple saw a similar spread transaction; this was also for the Oct. 16 expiration. However, for Apple, it was the $115 puts and calls that were traded. With the open interest levels on Sept. 16 rising by about 30,000 apiece. Meanwhile, Microsoft saw a similar transaction take place for expiration on Oct. 16, with the $210 puts and calls rising by around 6,000 contracts each, with the puts bought and the calls sold.
The bear spread transactions suggest someone is either betting these big technology stocks fall, or hedging their long portfolio against a potential decline in the indexes.
Technical Breakdown
From a technical standpoint, a further decline in the QQQ ETF seems possible. The ETF has broken a significant uptrend that has been in place since the beginning of April. That uptrend broke for the first time on Sept. 8; the breaking of that uptrend can signal a significant change in trend for the index. Should the ETF break that support level around $265, it could result in the ETF falling to around $250, dropping up to an additional 7%.

QQQ Daily
With the ETF and the NASDAQ 100 index already down so much, it seems hard to imagine that another leg lower is left. However, with valuations for many of these stocks still at very high levels, and the index up dramatically off its low, another leg lower is probably more reasonable than it seems.
Disclaimer: Michael Kramer and the clients of Mott Capital own AAPL and MSFT