Stocks are trading down on September 8 as futures have turned sharply lower within the past hour or so.
No news seems to be driving things, just the continued unwind of big overstretched technology names. It doesn't come as much as a surprise to me, or to you either, I'd think. We have talked about this for weeks, how stretched the market had become, and specifically some of these technology names.
Maybe people have been talking about the Softbank (OTC:SFTBY) story from the weekend, but I saw those big options trades, and from the data I saw on August 26, these were signs of some significant hedges being placed.
More importantly, is the S&P 500 is indicated to open down about one-percent and is moving further away from that uptrend. The more we move away from the uptrend, the more likely it becomes, we do not retake it.
This is a huge negative for the overall index because it likely means the major uptrend is broken, and if it is damaged, then that means we probably have much further to fall than anyone is expecting.
A drop below 3,310 in the futures sets up a move lower to 3,150.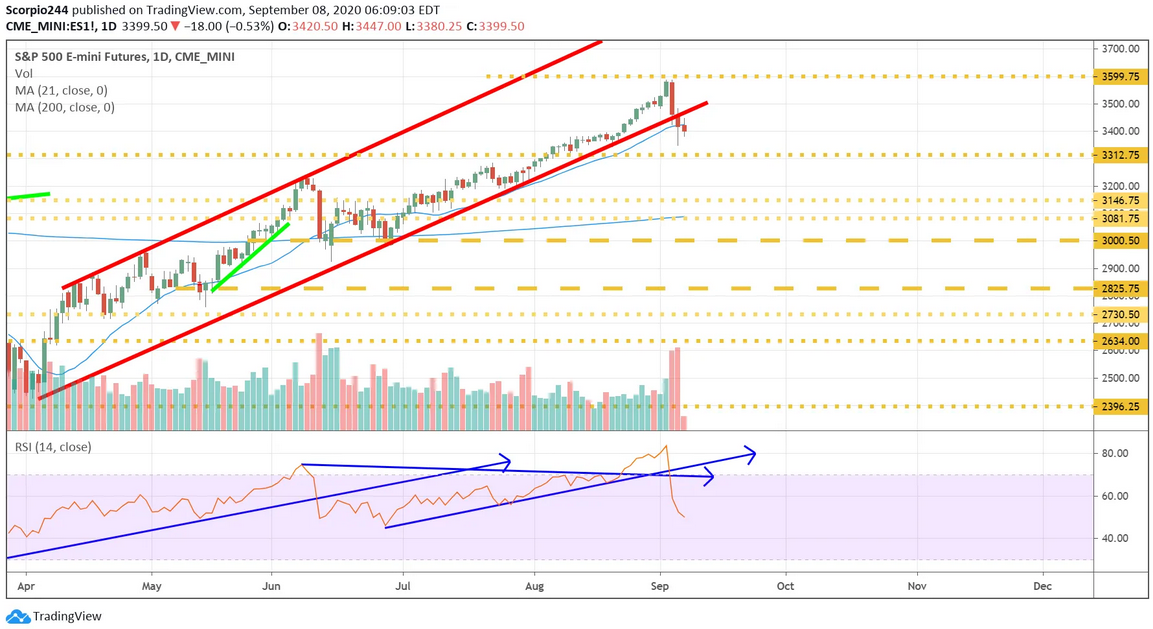 S&P 500 (SPY) Futures Daily Chart
NASDAQ 100
The NASDAQ 100 is also trading well below its 21-day moving average and just slightly below its uptrend. The index has yet to close below key support levels since April 22. So you do not want to see the NASDAQ Futures close at these lows. A break of this uptrend sets up a drop to 10,870.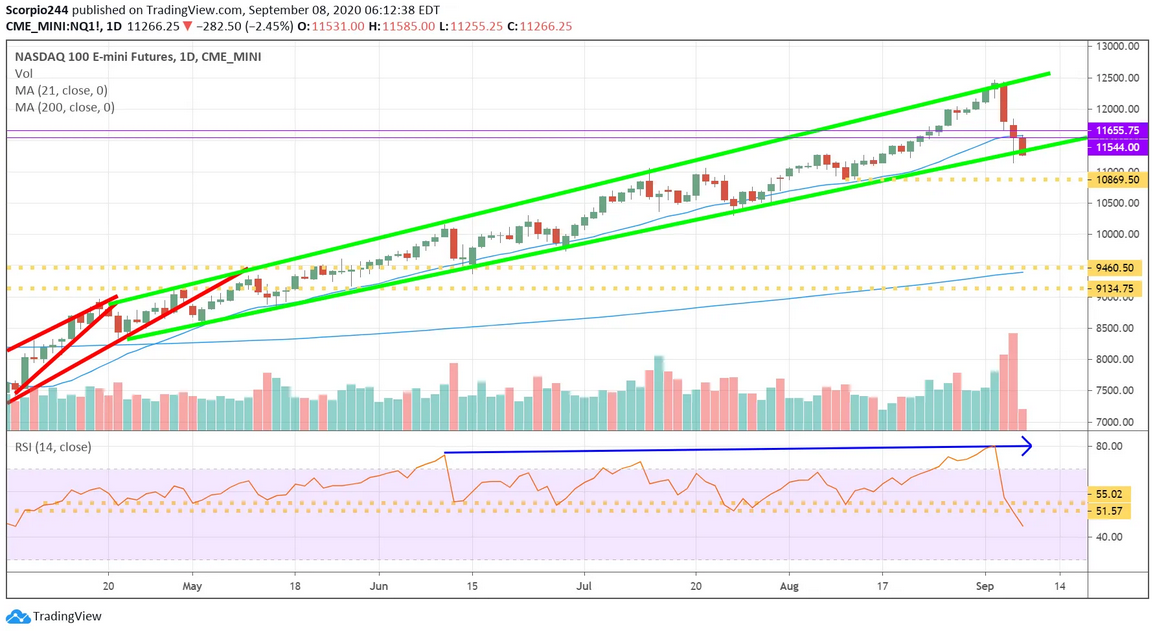 Nasdaq 100 Futures Daily Chart
Dollar
We are seeing a bit of a flight to safety today in the dollar index, which is up to 93.40. Again, a jump above 93.50 likely pushes the index up to 96. Remember this week is the big ECB meeting, and the euro does matter to them; the rally may only be the start.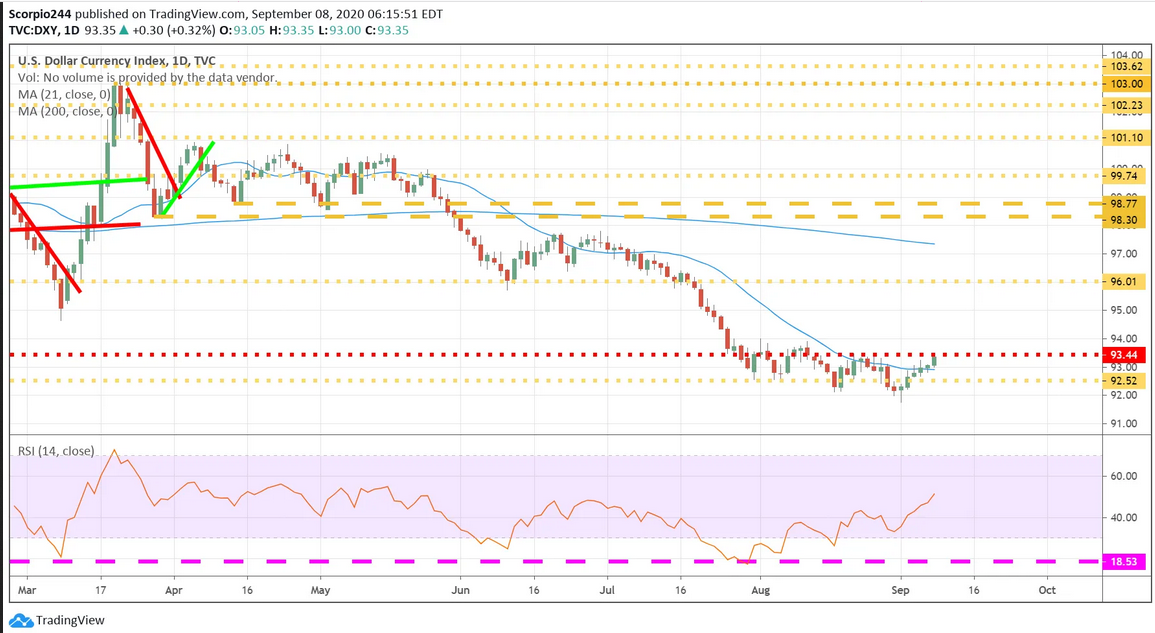 DXY Daily Chart
Gold
Gold may finally snap today, as the "inflation/speculation" bubble pops if the dollar starts to strengthen. With the next level below $1920 at $1870, but more likely $1820.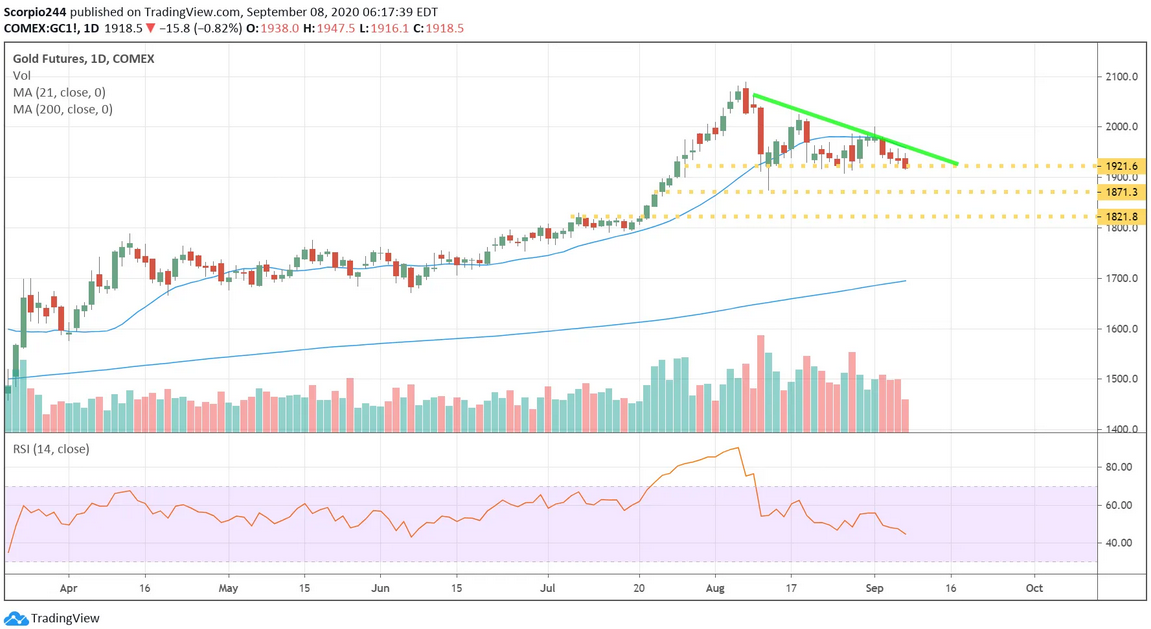 Gold Futures Daily Chart
Tesla
Tesla (NASDAQ:TSLA) is one stock falling today and needs to hold critical support of around $370. A break of that support level sends shares lower towards $330. The company announced it completed its $5 billion offerings.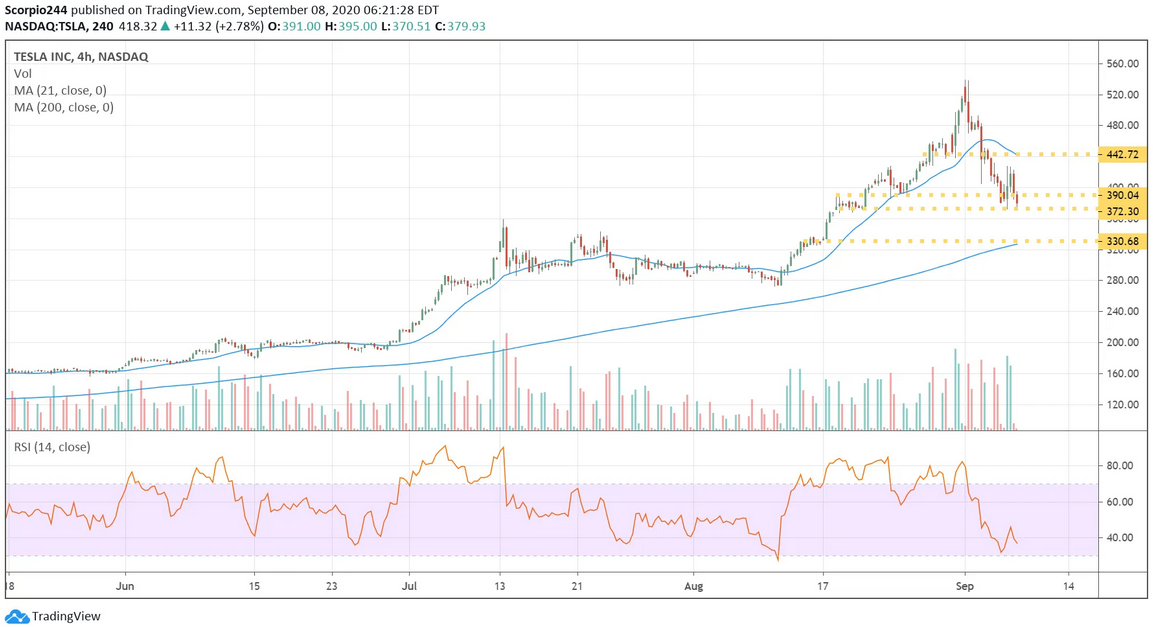 Tesla 4 Hr Chart
Advance Micro Devices
Advanced Micro Devices (NASDAQ:AMD) is dropping this morning and is below support at $79, with the potential to go to $72.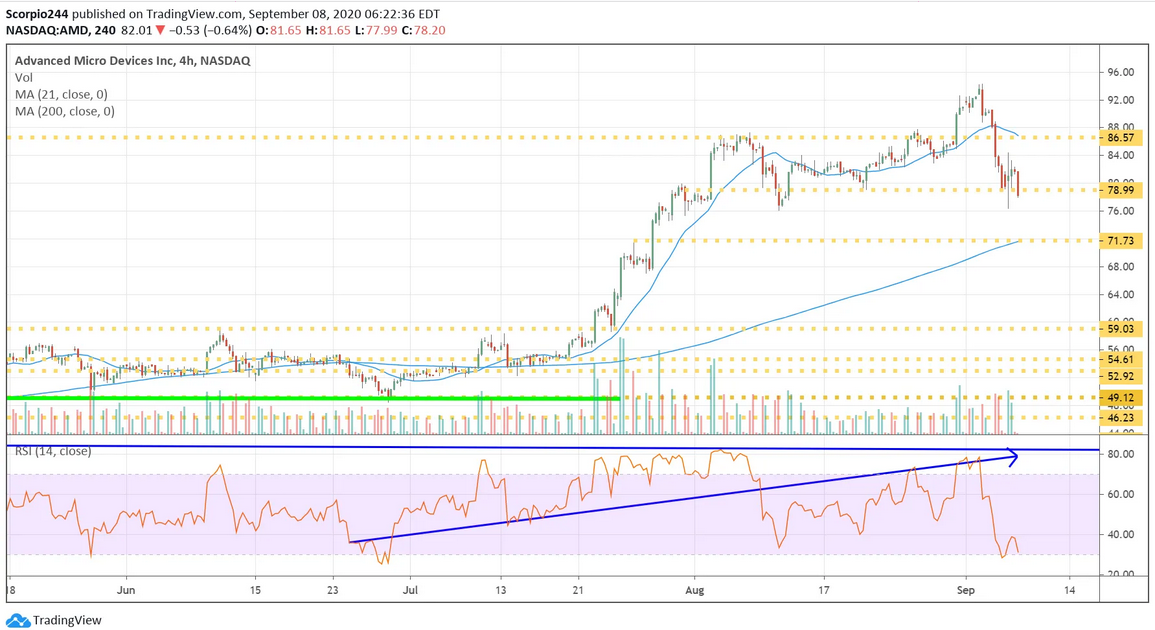 AMD 4 Hr Chart
Twilio
Twilio (NYSE:TWLO) is falling today below $237 and is likely to push to $218.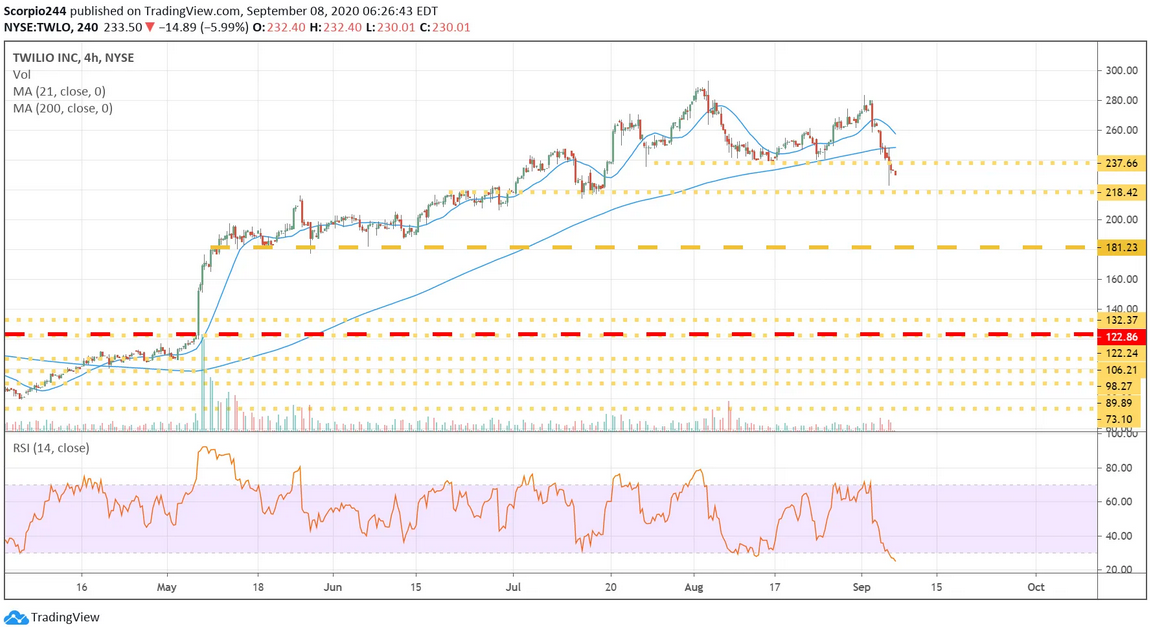 Twilio 4 Hr Chart
Microsoft
Microsoft (NASDAQ:MSFT) is breaking its uptrend, and now it has the potential to fall back to support at $198.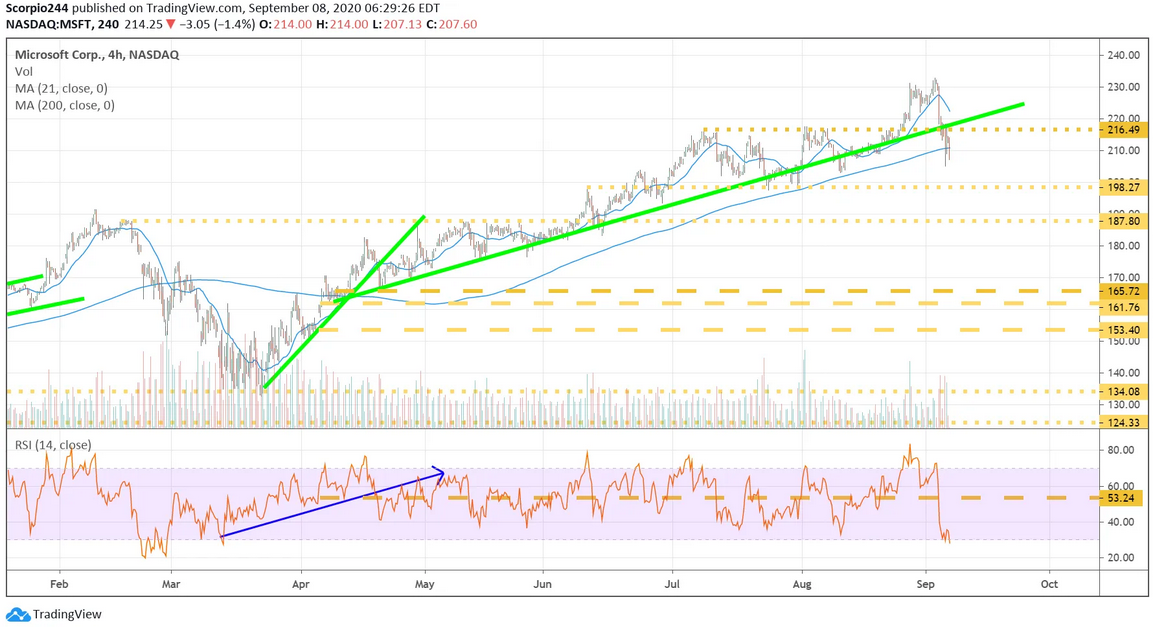 Microsoft 4 Hr Chart
Salesforce
What's going to happen if the market falls? Is Salesforce.(NYSE:CRM)'s trading desk positioned correctly? If not, this quarter's EPS may not be that strong. Watch for a drop back to $200.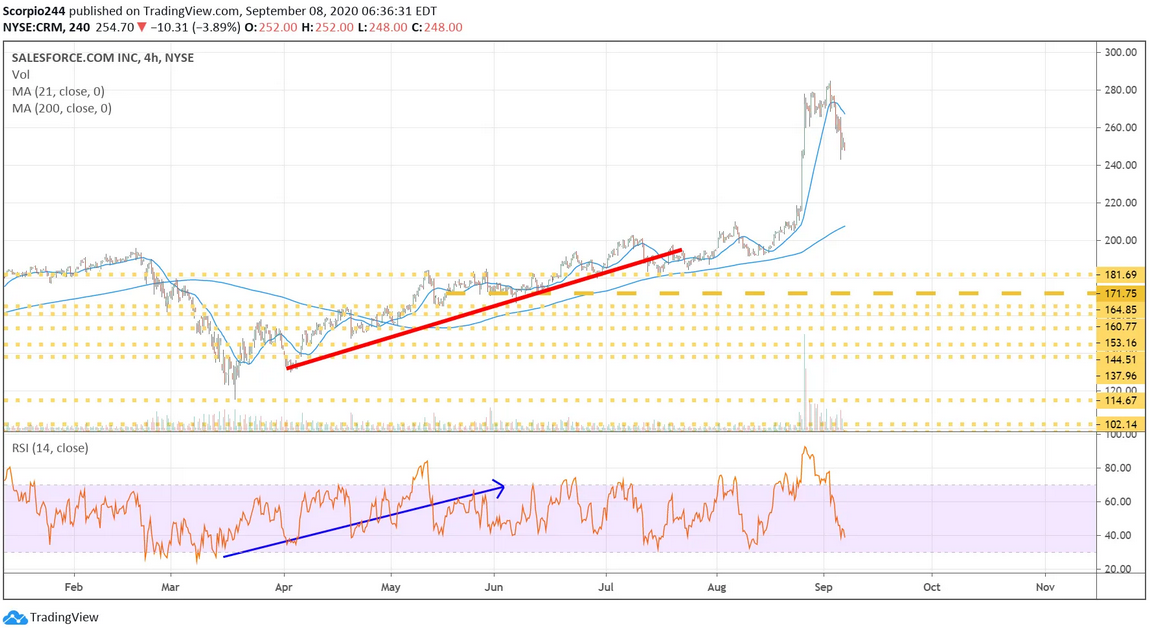 Salesforce Inc 4 Hr Chart
Have a great day!