The market internals have looked horrible in the last several trading sessions, and if you are not concerned about it, that's fine. Just don't be surprised when the Apple (NASDAQ:AAPL) and Tesla (NASDAQ:TSLA) train slowdown, the markets start to falter.
It is even visible on the chart, when you compare the NASDAQ 100 ETF (NASDAQ:QQQ), to the NASDAQ 100 Equal Weight ETF (NYSE:QQQE). It was on July 30 that Apple announced its stock split, and it was on August 11 that Tesla announced its stock split. We can see the divergence which both occurred during the next trading session.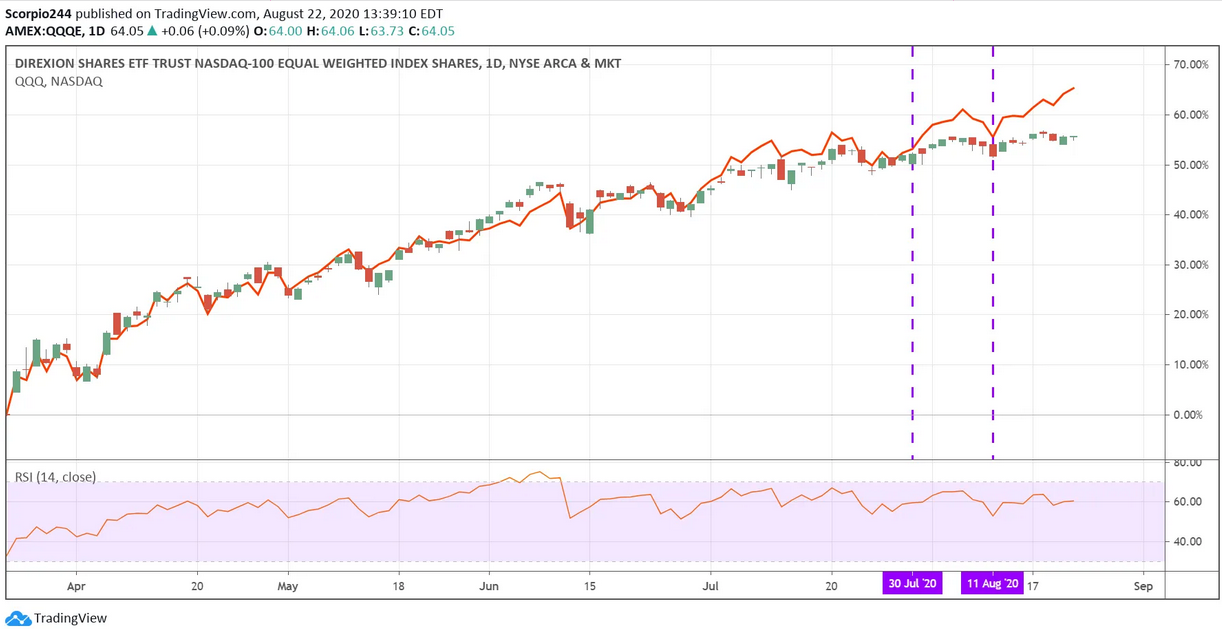 QQQ Daily Chart
Also, the number of stocks in the NASDAQ 100 above their 50-day moving average is falling, which is a sign of much of the index losing momentum.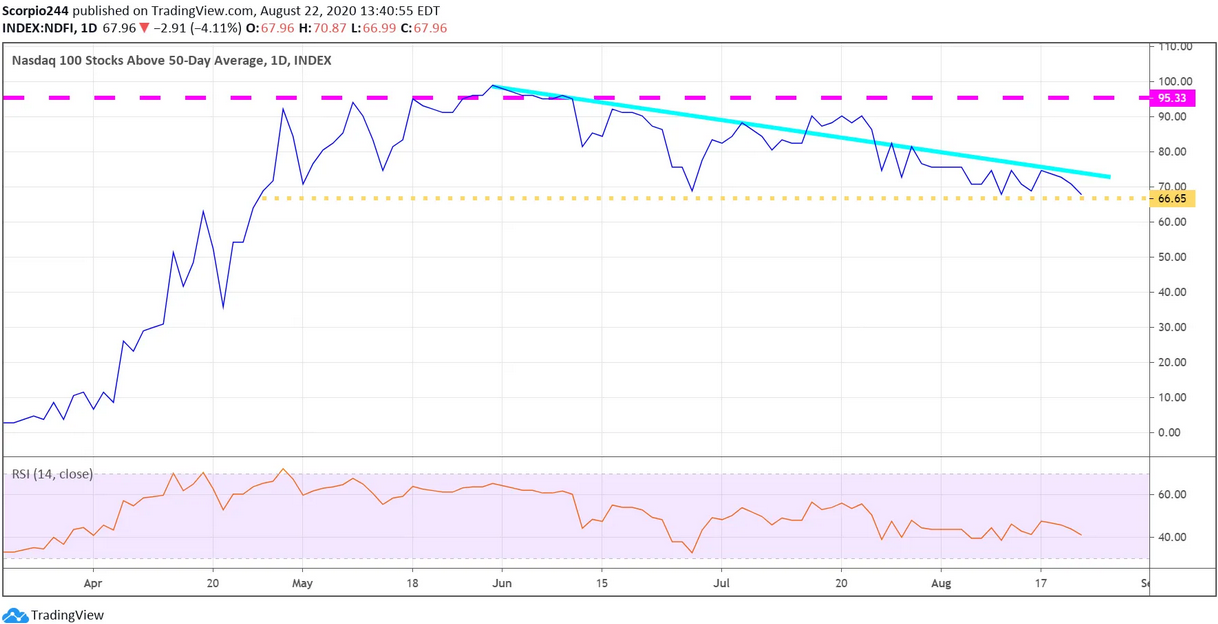 NDFI Daily Chart
The number of stocks above the 200-day has been moving lower as well.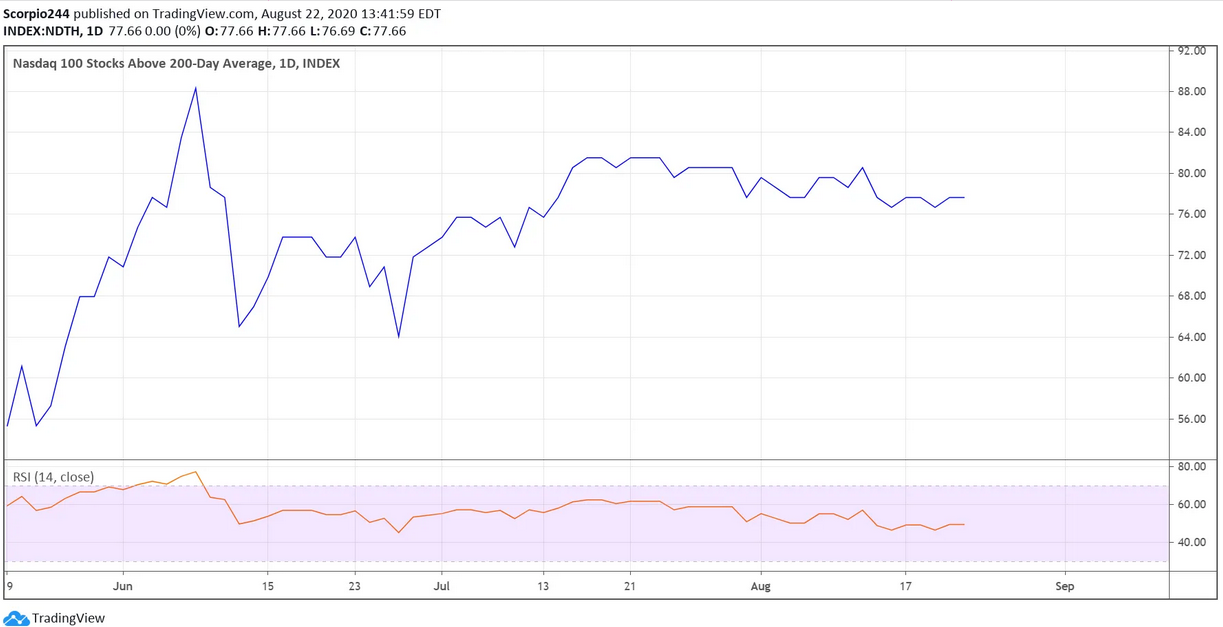 NDTH Daily Chart
Certainly, it would seem the effects of these two stocks are helping to influence the direction of the market. Because of the weighting that Apple has in the index, a day like Friday's is going to affect the overall NASDAQ 100 dramatically. Apple has a 13.8% weighting in the NASDAQ 100 (QQQ) as of July 31, which is up from 11.2% on May 31. Meanwhile, Tesla wasn't even in the top 10 on May 31; now, as of July 31, it has a 2.4% weight. One can only imagine, given the enormous moves in each, the weightings are likely more significant by now.
So as long as Tesla and Apple keep going up, good things can happen for the broader indexes. If they pause or should start to fall, then the index is likely going to struggle.
I love it that both of these stocks are working, I have owned both for a long time–Tesla since the summer of 2014, and Apple since the summer of 2018. So, trust me, this ride has been great. But I'm also realistic; this won't last forever.
When you factor in the market internals, it seems to suggest that it has become a two stock show. That isn't exactly sustainable.
The advance-decline agrees with the argument above. That line has fallen for 5 days in a row.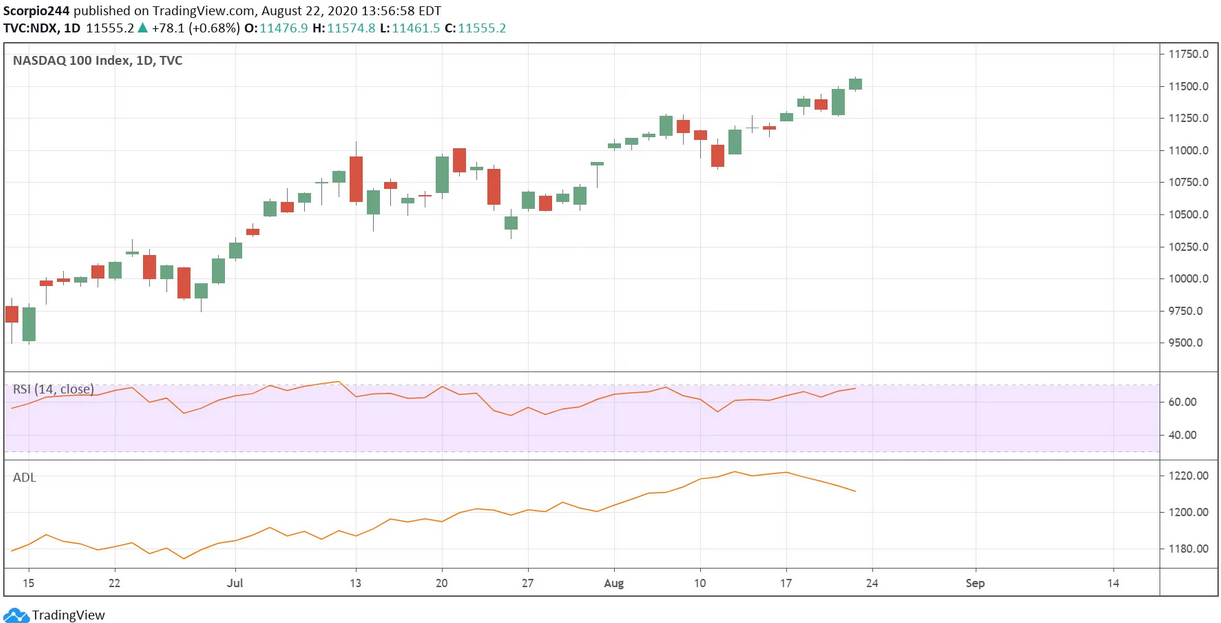 Nasdaq 100 Index Daily Chart
Anyway, I just thought I'd share these fun facts.